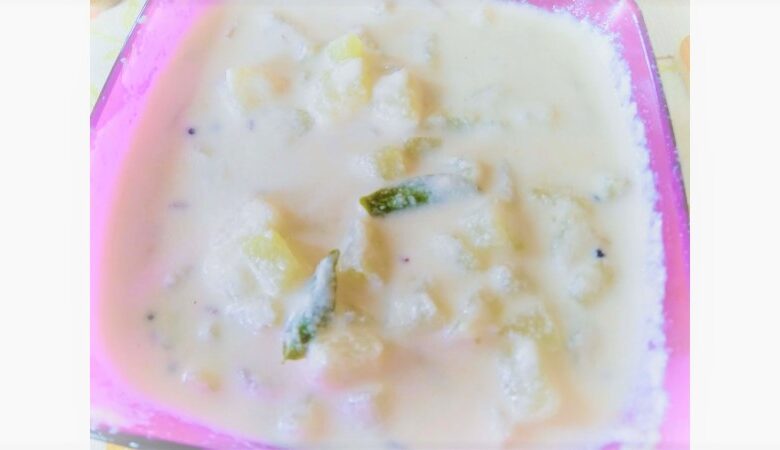 This dish is a favourite of my aunts'. They love to make it and I love to eat it. Btw, I learnt this dish from my most loved aunt. At first I was skeptical, but my aunt is a wonderful teacher. She is also a great cook. Hmm..maybe cooking well is in my genes. 🙂
Coming to the recipe, its quite easy to make and finishes also quite fast. I don't like to spend a lot of time in the kitchen, so recipes like this suit me just fine.
Ingredients
Bangalore vankaya – 2
Coconut – ½, shredded
Cashewnuts – 3 tbsp.
Green chilli – 2
Milk – ½ to ¾ cup
For tempering
Cumin seeds – ½ tsp.
Mustard seeds – ½ tsp.
Red chillies – 3 or 4
Oil – 1 tbsp
Method
Chop the bangalore vankaya into bite sized pieces and pressure cook them using a little salt.
Grind the green chillies, cashewnuts and coconut to a smooth paste adding some water.
In a kadai, do the tempering and add in the boiled veg pieces.
Now add in about a glass of water and some salt. Mix well. The water should cover the vegetable pieces. Now add in a bit more water.
Let this boil up and then add in the cashew coconut paste. Mix carefully for a couple of minutes.
Reduce the flame. Next add in the milk and combine well. Continue to mix till it comes together a little. This will take about a few minutes. Remember that this is a liquid style curry and should not be thick.
Check for salt and chilli and add if necessary. [Saute a couple of red chillies and add into the gravy. Mix well so that the flavour gets into the gravy curry]. Switch off and remove into a bowl.
For some more nutritious and delicious veg curries, click here….