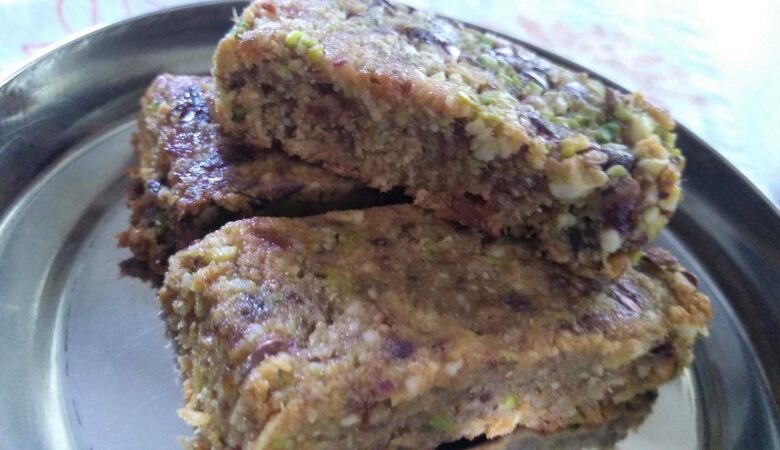 Ingredients
Powdered dry coconut – 100 gms.
Powdered jaggery – 100 gms.
Almond powder – 50 gms.
Jowar flour – 50 gms.
Water for binding – approx. 30 ml.
Apricots – 10
Cashewnuts – 2 tbsp.
Pista – 3 tbsp.
Flax seeds – 2 tbsp.
Melon seeds – 2 tbsp.
Pumpkin seeds – 2 tbsp.
Dates – 10
Chia seeds – 1 tsp.
Nutmeg powder – a pinch
Method
Soak the cashew, apricots, dates, pumpkin and melon seeds for an hour. Grind all these together with the pista and flax seeds.
In a bowl, mix the coconut powder, almond powder and jowar flour. Add in the jaggery and combine well.
Now add in the ground mix, chia seeds, nutmeg powder and stir well till a tight dough is formed by adding a little water at a time.
On a silicon mat, spread the dough and cut into bars. Place them on a lined baking tray and bake for about 10 mins. in a preheated oven at 180 deg.celsius.
For more variety of energy bars……. click here
a. Homemade Granola Bars
b. Berries and Seed Bars
c. Baked Seed and Nut Energy Bars
d. Raisin and Nuts Bars