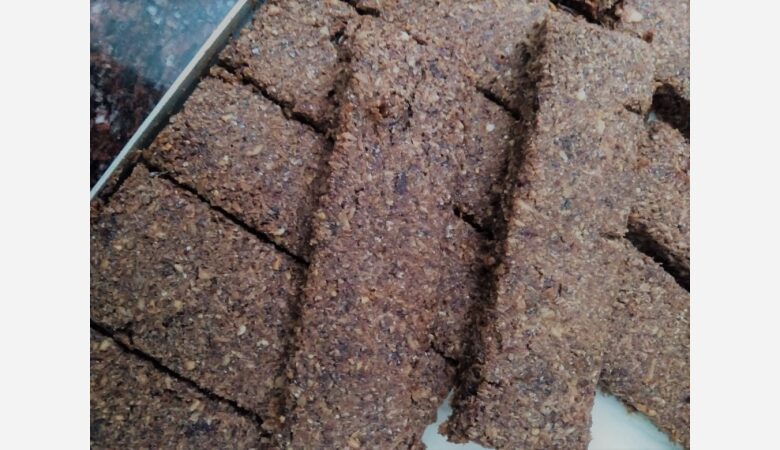 An Energy Bar is the very best " pick me up" snack that is healthy, tasty and oh so nutritious. It will satisfy your sweet cravings too. You can even have one for breakfast or pack it in your child's snack box…something the kid will love during school break times.
Ingredients
Powdered dry coconut – 100 gms.
Powdered jaggery – 100 gms.
Jowar flour – 50 gms.
Water for binding – approx. 30 ml.
Flax seeds – 2 tbsp.
Melon seeds – 2 tbsp.
Pumpkin seeds – 2 tbsp.
Sunflower seeds – 2 tbsp.
Chia seeds – 1 tsp.
Sesame seeds – 2 tsp.
Dried Cranberries – 1/3 cup
Dried blueberries – 1/3 cup
Raisins – ¼ cup
Nutmeg powder – a pinch
Method
Grind the seeds except the chia and sesame and keep aside.
Soak the dried berries for an hour and keep aside.
In a bowl, mix the coconut powder, jowar flour and jaggery together.
Now add in the ground mix, soaked berries, chia seeds and sesame seeds and stir well till a tight dough is formed by adding a little water at a time.
Press down the dough on a lined baking tray and slice into bars. Bake for about 10 mins. in a preheated oven at 180 deg.celsius.
Once cooled, remove and store in air tight container.
If you like this recipe, do take a look at my other energy bars here……
a. Baked Seed and Nut Energy Bars
b. Homemade Granola Bars
c. Nutribar