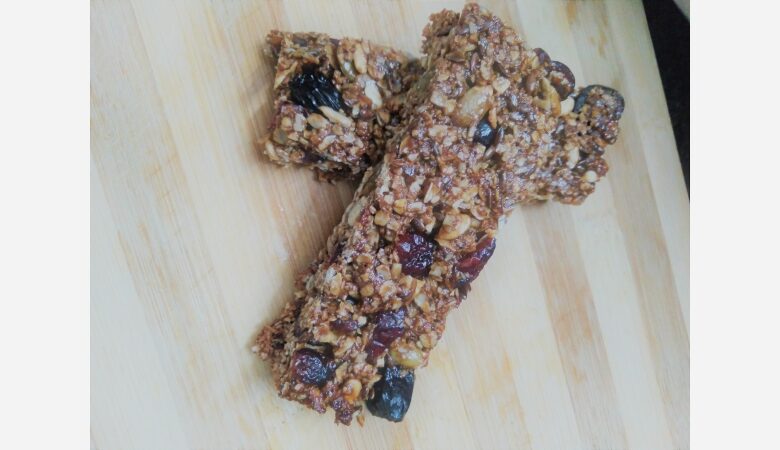 Ingredients
Rolled oats – 2 cups
Honey – ½ cup
Coconut oil – ¼ cup
Cinnamon powder – ½ tsp.
Vanilla extract – 1 tsp.
Pinch of salt
Sunflower seeds – ¼ cup, lightly roasted or toasted
Pumpkin seeds – ¼ cup, unsalted, lightly roasted
Melon seeds – ¼ cup, lightly toasted
Raisins – ½ cup
Dried cranberries – ½ cup
Method
Lightly roast the oats in a pan so that the natural sweetness of the grain is enhanced. Keep aside. You can also toast them in the oven for a few minutes.
Add in all the seeds and berries into a mixing bowl. Once the oats are done, add them into the bowl. Now, I gave these a little blitz to make into smaller pieces. You can skip it if you want to.
Meanwhile in a saucepan, add in the honey, coconut oil, cinnamon powder, vanilla extract and a pinch of salt. Simmer for a couple of minutes till the mixture turns into a homogenous syrup.
Once the syrup is ready, add it into the mixing bowl. Stir the entire lot till it is well combined.
Put this mixture into a greased pan lined with paper and press down very firmly.
Bake for about 15 mins. in a preheated oven at 170 deg.C. This process is to set the bars.
Once cooled, turn it out onto a board and cut into bars. Store in an air tight container.
Note – you can add in your preferred choice of dry fruits and seeds.
You can also try out my other energy bars –
a. Berries and Seed Bars
b. Baked Nutribites
c. No fat added Nutribar