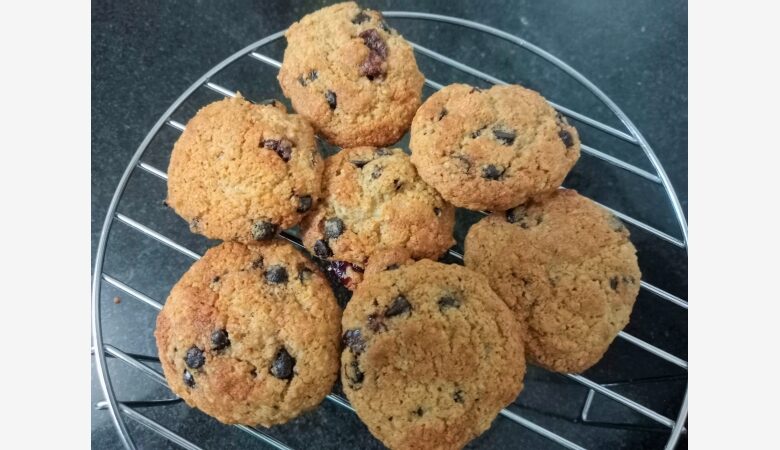 Ingredients
Almond meal – 1 cup ( made with blanched almonds)
Rolled oats – 1 cup
White sugar – 2 tbsp.
Brown sugar – ¼ cup
Baking powder – ½ tsp.
Baking soda – ½ tsp.
Salt – a pinch
Egg – 1 large
Cooking butter – 55 gms. melted
Vanilla essence – 1 tsp.
Choco chips – ½ cup
Craisins – ½ cup
Method
In a large mixing bowl, combine all the dry ingredients together.
Now add in all the wet ingredients and mix well.
Fold through the choco chips and craisins.
Using a cookie scoop, put the batter on a lined baking tray.
Bake in a preheated oven for about 10-12 mins. at 180 Deg.C.
Cool on a wire rack and store in an airtight container.
a. Easy Chocolate Chip Cookies
b. Triple Chocolate Cookies
c. Marbled Chocolate Chip Oatmeal Cookies
d. Crisp Chewy Chocochip Cookies
e. Chocolate Chip Cookies w Blueberry Centre
f. Eggless Oatmeal Chocochip Cookies
g. My Perfect Chocochip Cookies