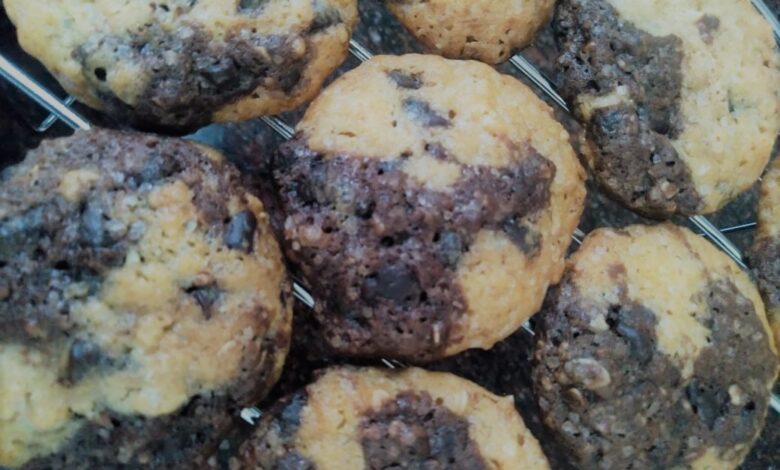 I generally try out a lot of cookie recipes….always on the lookout for something different and doable. On one such occasion, I came across this recipe from "Bake or Break". Love the website name a lot, by the way !!
Personally, I am a sucker for the marbled effect, as there is no hard and fast rule as to how they should look. That's the greatest advantage. I made a small batch with utmost urgency as I was craving for some chocolate crunch…as I always do.
Ingredients
Maida – 1 cup + 1 tbsp.
Unsalted butter – ½ cup
White sugar – ½ cup
Brown sugar – ¼ cup
Egg – 1
Cocoa – 1/8 cup
Oats – ½ cup (1/4 + 1/4 )
Chocolate chips – ½ cup (1/4 + 1/4 )
Vanilla essence – 1 tsp.
Baking soda – ½ tsp.
Salt – ¼ tsp.
Method
In a bowl, cream the butter and sugars together till well combined.
Add in the egg and vanilla essence.
Now add in the 1 cup maida, baking soda and salt.
Divide this mix into 2 parts. Add in the oats and chocolate chips to both parts.
To one portion, add in the cocoa powder and mix well.
For the other portion, add in the 1 tbsp. of maida and mix well.
Take a bit of both the cookie doughs and roll together and place on the cookie sheets.
Bake for about 10 mins. in a preheated oven at 180 deg. celsius till the white portion is a light brown colour.
Cool on the sheets for a couple of minutes and transfer to a wire rack to cool down completely. Store in airtight container.
For a different range of oatmeal recipes, you can try these here….
a. Eggless Oats and Date Cookies
b. Oatmeal Raisin Choco Chip Squares
c. Breakfast Muffins