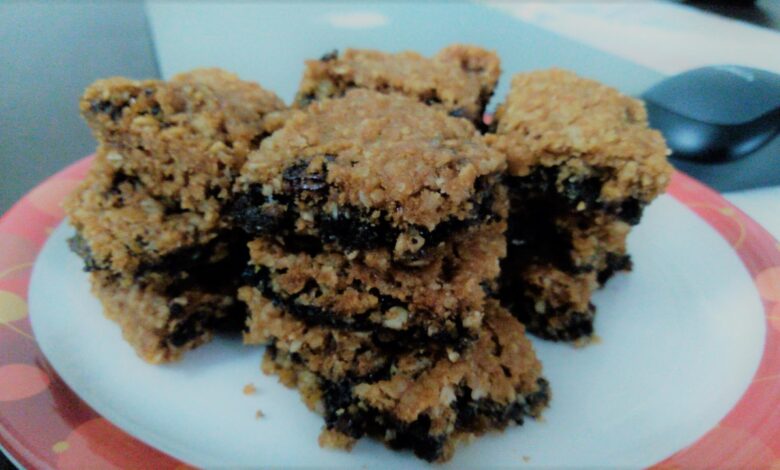 Ingredients
Unsalted butter – ½ cup
Brown sugar – ½ cup
White sugar – ¼ cup
Egg – 1
Maida or flour – ¾ cup
Oats – 1 cup ( I used quaker oats )
Vanilla essence – 1 tsp.
Salt – ¼ tsp.
Baking soda – ½ tsp.
Baking powder – ½ tsp.
Raisins – ½ cup
Chocolate chips – ½ cup, semi sweet or dark
Method
Preheat the oven to 180 deg.C. Prepare a square pan and keep aside.
In a mixing bowl, beat together the butter and sugars till well combined.
Add in the egg and give it a good mix. Put in the essence.
Now add in the salt, soda, baking powder, flour, oats and raisins. Mix well.
Now spread half the mixture in the pan and put the chocolate chips over this mixture.
Next spread out the balance mix onto the choco chips layer and carefully press down.
Bake for about 25-30 mins. till golden brown in colour. Once the mix cools down, cut into squares.
These small bites will surely take care of the sugar cravings…. for a wider variety try out one of these recipes. Some have oatmeal in them and some don't. But all of them are nutritious and tasty.
a. Berries and Seed Bars
b. Breakfast Muffins
c. Apple Oat Muffins