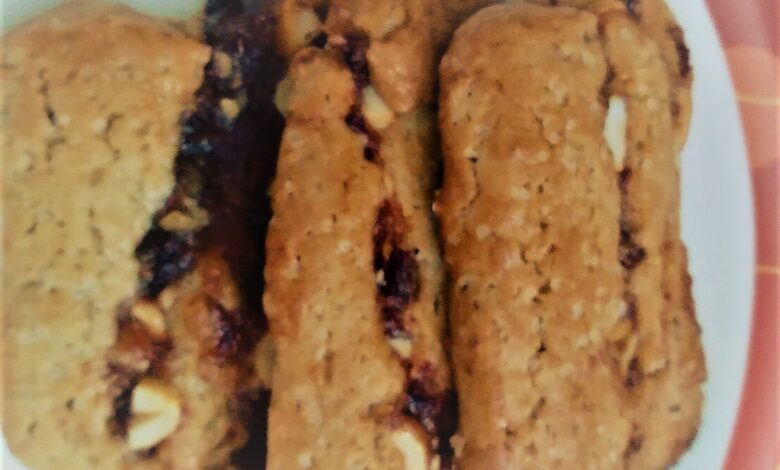 Ingredients
Unsalted Butter – 1/3 cup
Brown sugar – 2/3 cup
Egg – 1
Vanilla essence – ¼ tsp.
Cinnamon powder – ¼ tsp.
Salt – a very small pinch
Baking soda – 1/8 tsp.
Flour or Maida – 1.5 cups
Dates – 70 gms. chopped
Nuts – ¼ cup + 1 tbsp. (of your choice; I put chopped cashew. Walnuts and pecans will be good)
Water – 2 tbsp. + 2 tsp.
White sugar – 2 tbsp. + 2 tsp.
Method
Cream butter and brown sugar in a bowl until smooth.
Add in the egg and beat well. Mix in the vanilla essence.
Sift in the maida, cinnamon powder, salt and baking soda. Blend evenly.
Wrap and refrigerate this dough for about an hour.
To make the filling , combine the dates, nuts, white sugar and water in a saucepan over low heat. Cook the mix till a paste like consistency is formed. Cool slightly.
Remove the dough from the refrigerator and roll it out on the platform using a little flour so that it does not get too sticky.
Spread the filling paste on the dough and then roll into a sort of a log shape. Place it in the refrigerator again for about an hour.
Preheat the oven to 180 deg.C. Take a baking tray and place the parchment paper on it.
Remove and cut into slices using a sharp knife. Place them on the baking sheet and bake for about 15 mins. till set and lightly browned. Cool and store.
Dates are nutritious and a having a couple of dates a day is good for health. You can incorporate dates into sweet bites such as
a. Tea Time Date Muffins
b. Eggless Oats and Date Cookies
c. Date and Cashew Bites
d. Nutribar