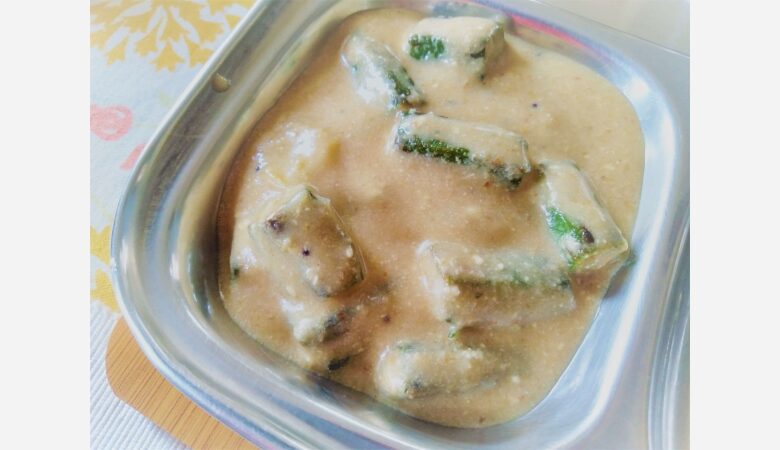 This recipe of using curds in a  ladyfinger curry, I came across in a newspaper. I cut that part of the page and kept it in my recipe collection. It has taken me quite some time to get around to giving it a try.
Yesterday I wanted to try something different with bendakaya and I remembered this. It turned out so good and now I am going to make it every now and then.
Ingredients
Bhindi or bendakaya – 10, chopped into big pieces
Curd – ½ cup
Turmeric – ½ tsp.
Dessicated coconut – 1 tbsp.
Rice – 1 tsp.
Coriander seeds or Dhaniya – 1 tsp.
Cumin seeds – 1 tsp.
Mustard seeds – 1 tsp.
Curry leaves – a few
Red chillies – 2
Salt to taste
Oil
Method
Soak rice in little bit of warm water for at least 15 mins. Dry roast the coriander seeds and keep aside.
Saute the vegetable in a pan just till the bhindi or bendakaya are almost cooked. Keep aside in a separate bowl.
Take a mixie jar and add in the rice, coconut, cumin and coriander seeds, red chillies and make a smooth paste by adding a little bit of water.
Put all this mixture in a kadai and cook for a minute or two. Add in the curds, bendakaya, turmeric and salt. Cook for 4 -5 minutes and turn off the stove. Depending on your choice of consistency, can add some more water while cooking.
Do the tempering with mustard seeds and curry leaves and pour it on top of the curry.
It is best served with hot steaming rice.
For Bendakaya/Bhindi/Ladyfinger Recipes, click here…
a. Ladyfinger Coconut Masala
b. Ladyfinger with Onion Tomato Masala
c. Bendakaya Fry
d. Bhindi Do Pyaaza
e. Bendakaya Senagapindi Kura
f. Bharwan Bhindi
g. Ladyfinger n Potato Masala Curry