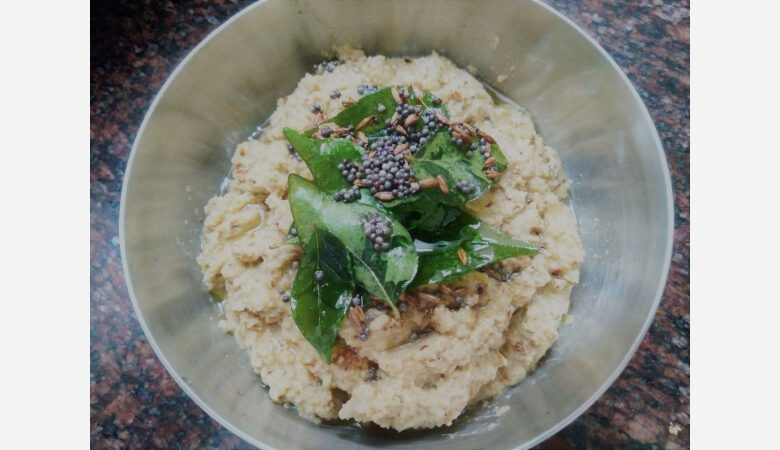 Normally in any regular household kitchen, we discard the peels of vegetables when cooking. We must try to reduce waste and to follow this principle, here is a chutney recipe that uses the peels of bottlegourd to make a tasty chutney. in case of absolutely tender bottle gourds, the peels are clean and easily get cooked too. The addition of peanuts and sesame lends a nutty flavour to this chutney.
Ingredients
Peels – 1 medium sized bottle gourd
Peanuts – 1 tbsp.
Coriander seeds – 1 tsp.
Cumin seeds – 1 tsp.
Urad dal – 1 tsp.
Chana dal – 1 tbsp.
Red chillies – 2
Roasted sesame powder – 1 tbsp.
Garlic – 4 pods
Tamarind – 1 tsp. paste
Salt to taste
Oil – 3 tbsp. + 1 tsp.
Curry leaves – few
Mustard seeds – 1 tsp.
Jeera – ½ tsp.
Method
In a small kadai, put 1.5 tbsp. oil and lightly fry or roast the red chillies, dals, coriander seeds and peanuts. Put this in a mixie jar and keep aside.
In the same pan, add some more oil and fry the peels with a little salt added. Keep stirring the peels in between to cook evenly. Remove in a plate and keep aside.
Now add in the tamarind, garlic and roasted sesame powder into the mixie jar and grind coarsely.
To this mix, add in the peels and grind till it forms a semi smooth paste. You can add a very little amount of water while grinding. Once done, remove into a serving bowl.
Do the tempering with curry leaves, jeera and mustard and pour over the chutney.
It is a very good combination with hot white rice.
Here are some more recipes using bottle gourd…..