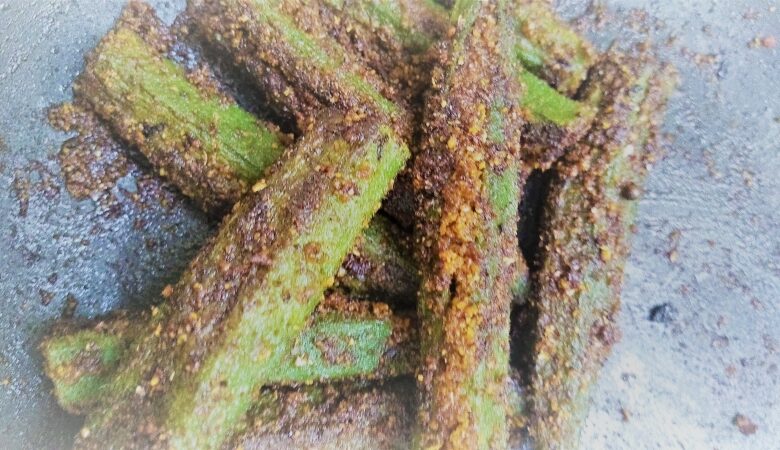 Ingredients
Bhindi or Bendakaya – 8 -10 nos.
Flax seed powder – 1 tbsp.
Idli podi – 2 tbsp.
Chutney podi – 1 tbsp.
Cumin powder – 1 tsp.
Coriander powder – 1 tsp.
Oil – 1 or 2 tbsp. , more if required to get desired consistency of mix
Salt – to taste
Method
Wash, clean and dry the bhindi. Make a slit through the centre of the bhindi and keep aside.
In a small bowl, take all the powders and mix well. Add in the oil to make a paste.
Fill in the slit bhindi with the powder mix and keep aside.
Now in a shallow fry pan, add a little oil and once hot, put in the bhindi and cover. If more mix is left, add that in.
After a couple of minutes, remove lid and carefully turn the bhindi over to cook on the other sides.
Once the bhindi is cooked, remove lid, fry for a minute and switch off the stove.
Eat the bharwan bhindi with hot rice and dal.
For more recipes on Bhindi / Bendakaya / Ladyfinger, check out the ones below…..