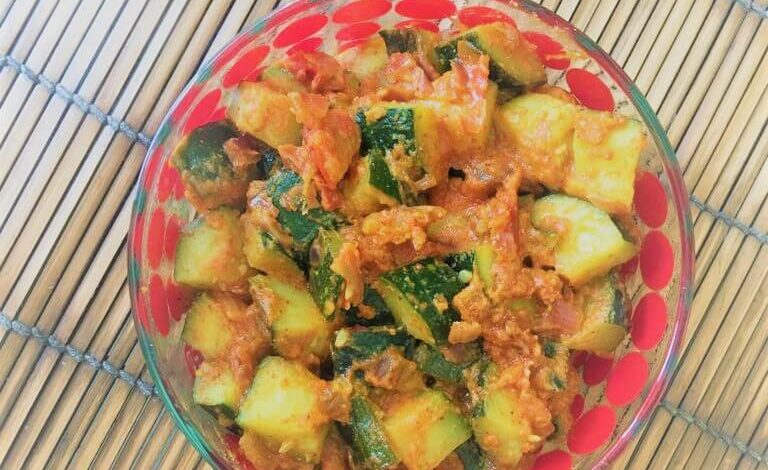 Ingredients
Zucchini – 2, chopped
Tomato – 2, chopped
Onion – 1, chopped
Ginger garlic paste – ¼ tsp.
Coriander powder – ½ tsp.
Cumin powder – ½ tsp.
Oil – 2 tbsp.
Red chilli powder – 1 tsp.
Garam masala powder – ½ tsp.
Turmeric powder – a pinch
Salt to taste
Method
In a pan, add oil and heat. Now add in the onion and ginger garlic paste and saute.
Once the onions are semi-cooked, add in the tomato and fry well.
Next add in the salt, powders and combine.
Now put in the zucchini pieces and mix well. Cover and cook for a couple of minutes till the zucchini is soft and cooked.
Do a taste check and add salt or chilli powder if needed.
Remove into a serving bowl and enjoy.
For more such tasty and easy dry veg recipes, you could try out some of these below……
a. Chayote Coconut Dry Veg
b. Masala Cauliflower Curry
c. Ivy Gourd Coriander Dry Veg
d. Capsicum, Broccoli & Paneer Stir Fry
e. French Beans Coconut Fry
f. Broad Beans Fenugreek Fry