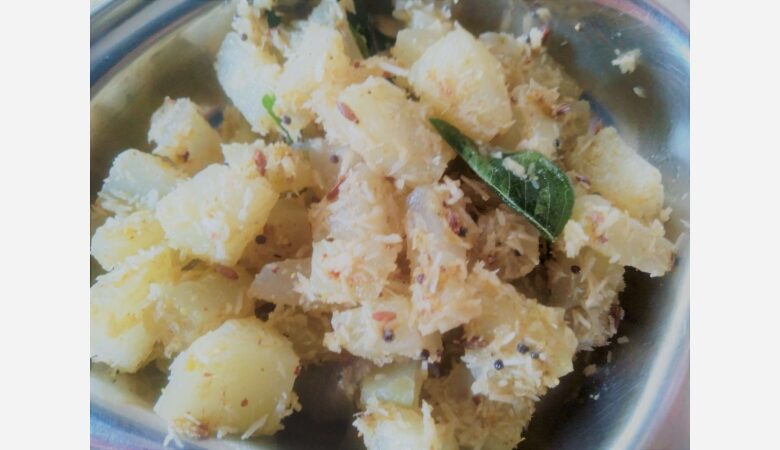 Ingredients
Chow Chow – 2
Grated coconut – ½ cup
Green chilles – 3 or 4, sliced
Mustard sees – 1 tsp.
Cumin seeds – 1 tsp.
Split urad dal – 1 tsp.
Oil – 1 tbsp.
Curry leaves – few
Salt to taste
Method
Wash, peel and cut the chow chow into small cubes. Remove the seed in the centre and then chop into bite sized pieces.
In a pressure cooker, boil the veggie pieces, adding water and salt for 3-4 whistles. Strain and keep aside.
In a fry pan, add oil and once hot, add in the cumin, mustard, urad dal, chillies and curry leaves. Saute for a minute.
Now add the cooked chow chow and stir well. Check for salt. Once the moisture reduces, add in the coconut and mix well.
The dry veg fry is ready and is perfect with a bowl of hot white rice.
Using the same vegetable, you can also try out my Chow Chow Kootu and  Chow Chow Masala Curry
If you like this simple veg fry recipe, be sure to try out my other recipes too…
a. Aloo Methi Fry
b. Bhindi Do Pyaaza
c. Vankaya Batani Kura
d. Dondakaya Coriander Fry
e. Beetroot Fry
f. Artikaya Vepudu