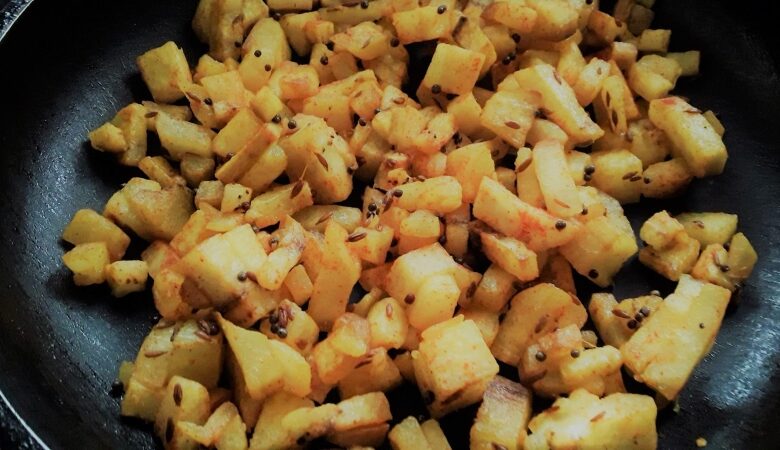 Ingredients
Raw banana or artikaya –  2
Salt to taste
Red chillii powder –  1 tsp.
Mustard seeds –  1 tsp.
Cumin – 1 tsp.
Split urad dal – 1 tsp.
Turmeric –  ½ tsp.
Oil –  2 tbsp.
Method
Peel and cut the raw banana into pieces. Place in water so that they don't change colour.
In a kadai, add oil and once hot, do the tempering with mustard, urad dal and cumin.
Add the raw banana pieces to it along with salt and turmeric and mix well.
Cover and cook till done. Keep stirring in between to check if soft and cooked.
Once done, add the red chilli powder and sauté for a minute. Switch off the stove.
You might also like my other dry veg recipes that are so simple to make and make a tasty combination with white rice for lunch ….
a. Parval Fry
b. Barbati Potato Kura
c. Dondakaya Dry Veg
d. Broad Beans Coconut Fry
e. Bendakaya Fry
f. Cluster Beans w Chana Flour
g. Beans Potato Fry