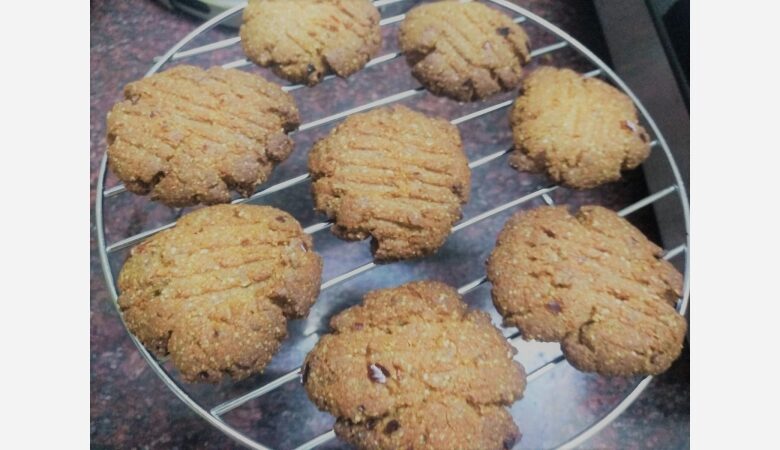 Ingredients
Instant Oats – 1 cup, coarsely ground
Whole wheat flour – ½ cup
Dates – ½ cup chopped
Brown sugar – ½ cup, coarsely powdered
Ghee – ¼ cup
Coconut oil – ¼ cup
Baking powder – 1 tsp.
Baking soda – ½ tsp.
Vanilla essence – 2 tsp.
Milk – 2 tbsp.
Method
In a mixing bowl, add the oatmeal, wheat flour, baking powder and baking soda. Give it a good mix.
In a separate bowl, mix together the oil, sugar, ghee, dates and vanilla essence. Stir till sugar dissolves.
Now add the dry mix to the wet ingredients and mix well to get a crumble kind of consistency.
Now add the milk to it to get a soft dough.
Make the dough into small balls, flatten them out and press down with a fork.
Arrange these discs on a baking tray lined with parchment paper.
Bake for about 20 to 25 minutes in the preheated oven at a temperature of 180°C.
Once baked, cool and store in an airtight container.
Here are a few such simple and healthy cookies recipes…..
a. Millet Choco Chip Cookies
b. Eggless Coconut Almond Jowar Cookies
c. Flourless Chocolate Cookies
d. Spicy Savoury Cookies