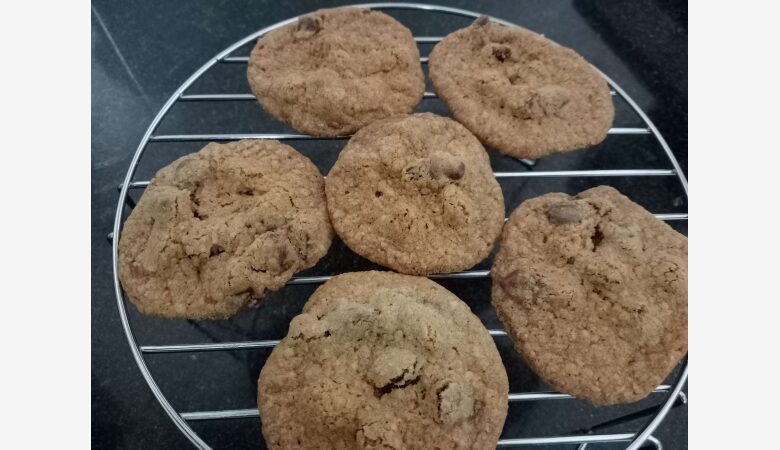 Ingredients
Butter unsalted – ½ cup softened at room temp.
Brown sugar – ½ cup
Boiling water – 1/8 cup
Baking soda – ½ tsp.
Salt – a pinch
Vanilla essence – ½ tsp.
Maida – 2/3 cup
Rolled oats – 1 cup
Semi sweet chocolate chips – 150 gms
Method
Preheat the oven to 160 deg. C.
Coarsely powder the oats and brown sugar separately
Cream together butter and brown sugar.
Dissolve the soda in water and add it to the mix.
Now add in the essence and mix for a minute.
Next add in the oats and flour. Combine well.
Stir in the chocolate chips.
In a cookie tray lined with parchment paper, scoop the batter and bake for 10 -12 mins.
Cool the cookies on the sheet for 5 mins. before removing them onto a wire rack.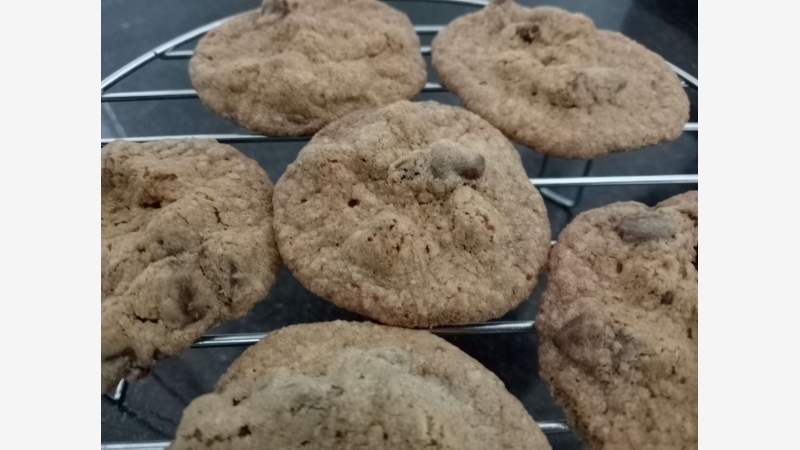 For plenty more cookie recipes, click here….
a. Eggless Cornflakes Cookies
b. Nutty Thumbprint Cookies
c. Triple Chocolate Cookies
d. Marbled Chocochip Oatmeal Cookies
e. Millet Cookies