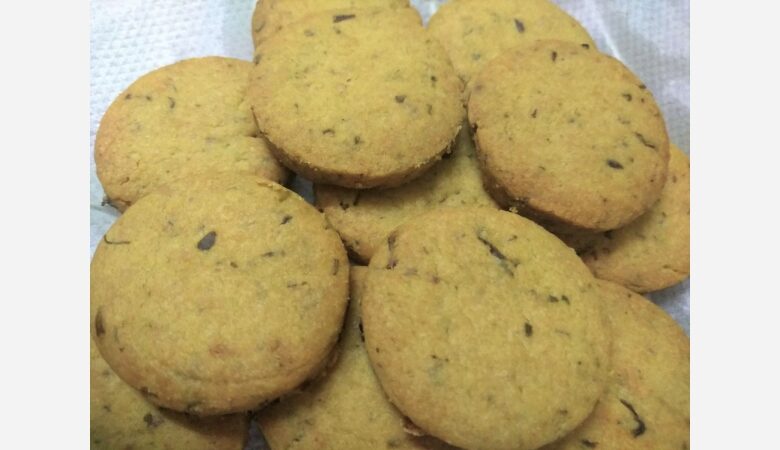 Ingredients
Maida – ½ cup
Wheat flour – ¾ cup plus a bit extra
Cornflour – 2 tbsp.
Baking powder – 1 tsp.
Turmeric powder – a pinch
Salt – 1/2 tsp.
Sugar – 1 tsp. (powdered)
Cooking butter – ½ cup, softened
Green chillies – 2, finely chopped
Coriander – 3 tbsp., finely chopped
Curry leaves – 2 tbsp. finely chopped
Ginger – 1 inch piece
Curd – 1 or 2 tbsp.
Kasuri methi – ½ tsp.
Carom seeds or ajwain – ½ tsp.
Cumin seeds – ½ tsp.
Method
In a small mixie jar, make a paste of the green chilies, coriander, curry leaves and ginger.
In a bowl, add the maida, wheat flour, cornflour, salt, sugar, baking powder and turmeric together. Give it a good whisk.
Now add the butter to it along with the paste. Mix well with your hands to form a coarse crumb like mixture.
Add the kasuri methi, carom seeds and cumin seeds to it and form into a smooth dough adding a bit of the curd, a little at a time. Don't make it too soft.
Cover and keep aside for half an hour.
Preheat oven to 200°C. Grease a baking tray and keep aside.
Make the dough into a couple portions so that it is easy to roll.
Roll each portion into a thin circle and with a cookie cutter, cut into shapes. Place these on the tray and prick them with a fork.
Bake for about 15 to 20 minutes till the edges start to brown. Remove and cool on a wire rack. Store in air tight containers. They store well upto a week.
You might also like to snack on my Cheese Biscuits. They are deliciously cheesy and easy.