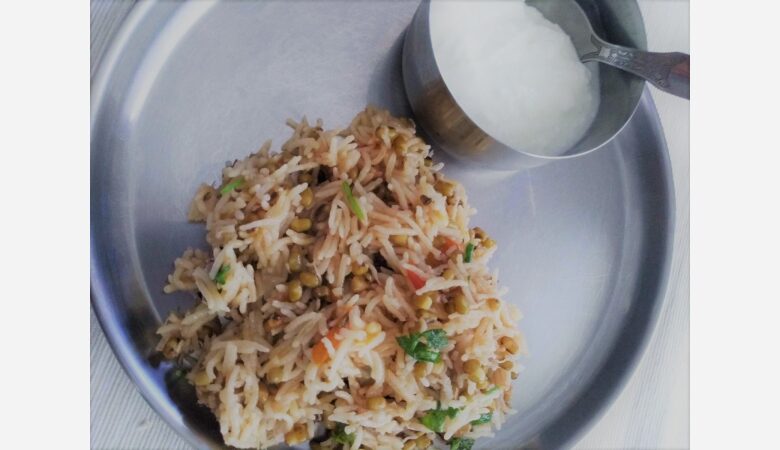 Ingredients
Basmati rice – 1 small glass (washed and soaked in water for 15 -20 mins)
Cumin seeds – ½ tsp.
Onion – 1 small, sliced
Tomato – 1 diced
Moong sprouts – ¾ cup
Ginger – 1 tsp. grated
Cloves – 2
Cardamom – 2
Cinnamon – 1 inch piece
Bay leaf – 1
Black peppercorns – 6 to 8
Green chillies – 3 sliced
Coriander – 2 tbsp. chopped
Mint leaves – a few
Oil  – as necessary
Salt to taste
Method
Heat oil in a pressure pan, and add the cinnamon, cardamom, bay leaf, cumin, peppercorns, cloves to it. Let them crackle. Now add the green chillies. Stir well.
Add the onions, ginger and a pinch of salt. Cook till onion turns transluscent.
Now stir in the tomatoes and mint leaves and cook till the tomato is soft.
Add in the sprouts and a bit more salt and mix well.
Drain water from the rice and add into the pan. Mix the entire lot slowly and properly. Add 2 cups of water. Season with salt. Check for salt. Mix well and pressure cook for 2 to 3 whistles.
Let it rest for a while and open the lid. Gently mix with a fork, garnish with coriander and serve.
You might also like my spicy, tangy and tasty Bisibella Bath and Spicy Veg Pulao
For more pulao or fried rice recipes...click here