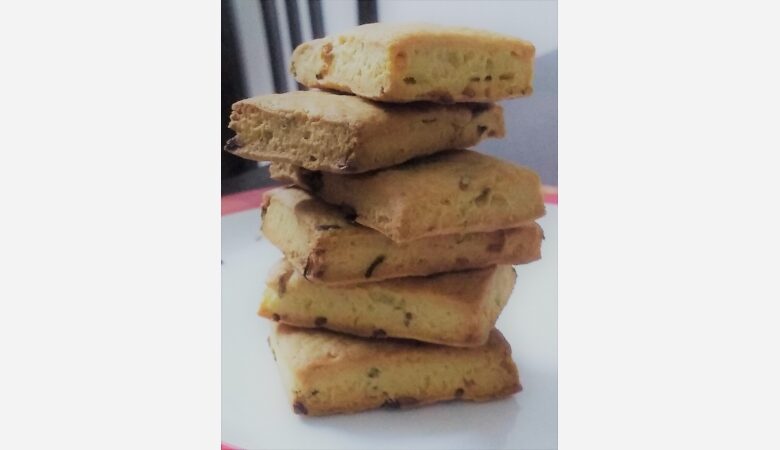 Let me tell you the story behind my trials where this recipe is the main focus. My mother's childhood friend made these for her daughter and told my mom who is one of her besties to try them out (for herself and of course ME).
My mother, thought a step ahead and decided not to take the trouble of doing it at all and instead asked me to help out. She is pretty old by the way. So I made up my mind to not let my mother do any work on this except eat them of course and I set out to making these biscuits all by myself. And boy, they turned out good.
This recipe of cheese biscuits is just awesome. The biscuits were so airy and light and mouth-melting (that's what my husband called them). I ended up sending out some to my aunt and uncle too. Guess this is a family favourite now and one day it could be yours too.
Recipe courtesy – Tarla Dalal
Ingredients
Amul cheese – ¾ cup grated
Maida – 1 cup
Cold salted butter – ¼ cup
Red chilli powder – ½ tsp.
Jeera or cumin – ½ tsp.
Baking powder – ¾ tsp.
Salt to taste
Spring onions – ¼ cup, chopped
Milk – 1 tbsp.
Maida for sprinkling – 1 or 2 tbsp.
Method
Take a big bowl and combine the maida, butter, chilli powder, cumin seeds, baking powder and salt and mix well. Rub the mixture between your palms.
Now add in the cheese, spring onions and milk. Stir till well combined into a smooth dough.
Keep the bowl in the refrigerator for 15 mins.
Now take the big rolling or chopping board, sprinkle a bit of maida all over it and roll the dough out in the shape of a square till it is about 3 mm.in thickness.
Cut it into equal squares using a sharp knife. Place these on the baking tray lined with parchment paper and bake in a preheated oven for about 20-25 mins at 180 degrees centigrade.
Cool completely and serve.
If cheese is one of your fave ingredient, you may try out some of these recipes which have quite a bit of cheese….mixed in or topped up.
a. Mera Risotto
b. Veg Au Gratin
c. Baked Mix Veg Pasta
d. Cheesy Zucchini Muffins
e. Veg Pizza
f. Spinach Corn Mix