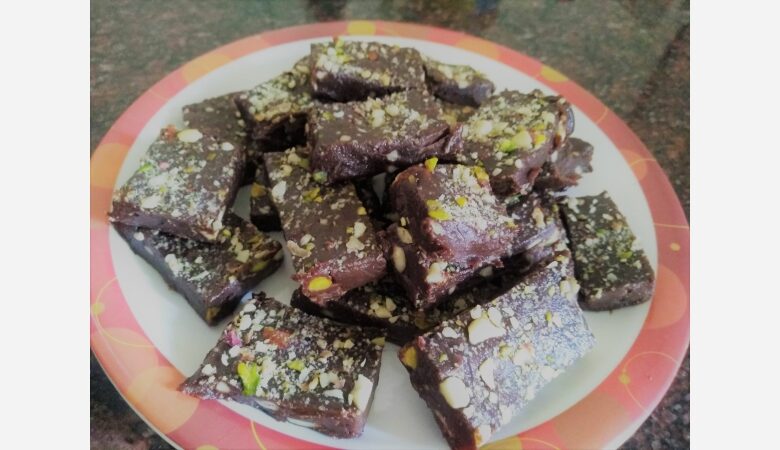 Ingredients
Salted Butter – 50 gms
Dark chocolate – 200 gms., chopped
Condensed milk – 300 gms.
Unsweetened khoya / mawa – 100 gms.
Mixed nuts(cashew/almond/walnut/pista) – 80 to100 gms.( very coarsely ground)
Vanilla essence – ½ tsp.
Method
On a low flame, place a non stick pan and melt the butter. Now add in the dark chocolate pieces and mix well till it totally dissolves and forms a homogenous mix.
Now add in the condensed milk and stir continuously till it is cooked and little bubbles appear.
Add the crumbled khoya into the pan and constantly mix for a minute.
Next add in the nuts; remember to keep some for garnish.
Cook the mixture becomes thick for another couple of minutes and switch off the stove.
Pour the essence into the mix and stir till well combined.
Pour the entire mixture into a greased tray and spread evenly. Sprinkle the remaining nuts on top.
Cool for a while and cut into squares. It will take a few hours to totally cool down so that the pieces come off easily from the tray.
Here a few recipes that are perfect sweet fudgy bites…
a. Chocolate Fudge with Nuts
b. Choco Nut Fudge
c. Date and Cashew Bites