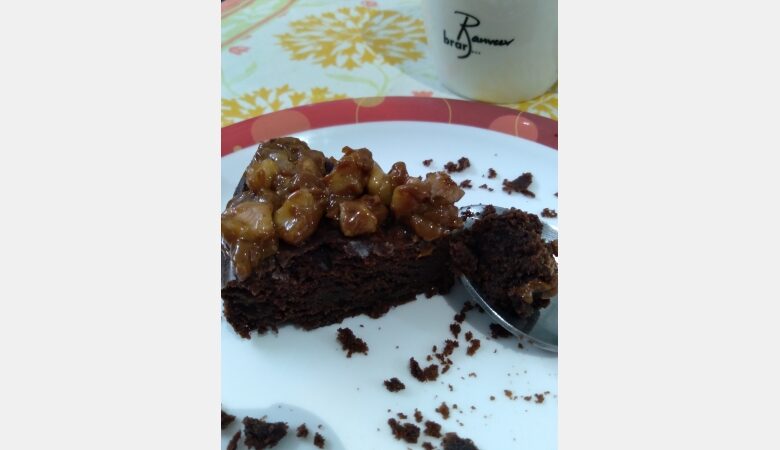 Ingredients
Dark Chocolate – 150 gms., chopped ( I used 45 % 2M )
Salted butter – 65 gms.(at room temp.)
Condensed milk – 75 gms. (at room temp.)
Water – 2 tbsp.
Coffee – ½ tbsp.
Vanilla essence – ½ tsp.
Maida – 100 gms.
Baking powder – ¼ tsp.
Topping
Caramel Sauce – ¼ – ½ cup
Walnuts – a few chopped.
Method
In a microwave safe bowl, combine together the coffee and water and heat for 30 secs.
In another large microwave safe bowl, add together the dark chocolate pieces, butter, condensed milk, vanilla essence and water coffee mixture. Mix and microwave in 1 minute intervals till the mixture is smooth.
Now add in the maida and baking powder. Stir till everything is properly combined.
Grease and line a small round cake tin with butter paper and keep aside.
Once the batter is ready, pour into the prepared tin and tap it a few times so that there are no air bubbles.
Bake for about 25-30 mins. in a preheated oven at 170 deg.C. Check with a cake skewer to see if it is done.
Cool and demould onto a plate.
Take some caramel sauce and add the chopped walnuts to it. Top it over the cake. Cut and serve.
You can also try out my other eggless recipes…..
a. Bakery Style Cornflakes Cookies
b. Eggless Date and Cashew Cake
c. Eggless Chocolate Brownies
d. Jowar Carrot Loaf
e. Eggless Choco Chip Banana Bread
f. Coconut Almond Jowar Cookies