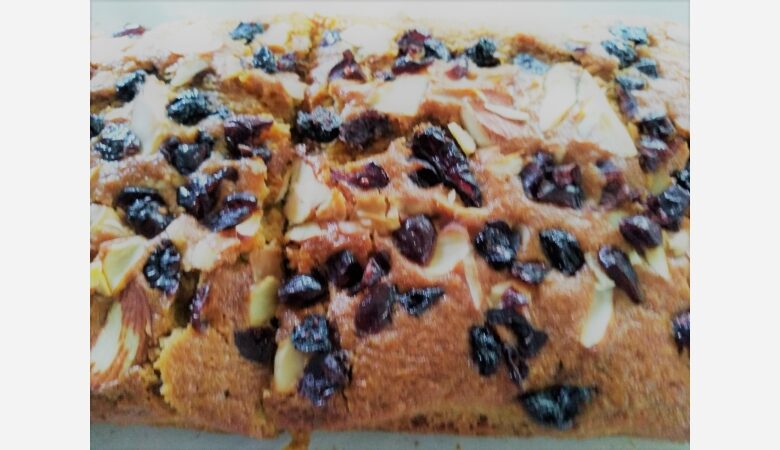 Ingredients
Wheat flour – ½ cup
Jowar flour or Jonna pindi – ½ cup
Carrot – 1 cup, grated
Jaggery – ¾ cup, powdered
Baking powder – ½ tsp.
Baking soda – ½ tsp.
Curd – ½ cup
Coconut oil – ¼ cup
Milk – 5 tbsp.
Cinnamon powder – ½ tsp.
Lemon juice – 1 tsp.
Almonds – a handful, chopped or grated
Can also use raisins or cashew or any other nuts and dry fruits of your choice.
Method
In a bowl, add curds and mix well. To it add the jaggery and give it a good stir.
Now add into it baking soda and baking powder. Mix well and keep aside for 5 mins. meanwhile it will froth up and you can see the bubbles form.
Now add the oil to it and mix properly.
Next add in the flours and cinnamon powder. Mix well and see that there are no lumps.
Add in the carrot, chopped nuts and dry fruits and combine.
Now put in the lemon juice and milk and stir to form a smooth batter.
Pour the batter into a greased mould and bake in a preheated oven at 180 degrees Celsius for 30 mins. approx..
Check if done and remove. Cool on a wire rack. Cut into pieces and store in air tight container.
For more millet recipes, especially Jowar flour, click here…
a. Millet Choco Chip Cookies
b. Foxtail Millet Dosa
c. Healthy Multigrain Ambali
d. Eggless Coconut Almond Jowar Cookies
e. Baked Nutribar
f. Berries and Seed Bars