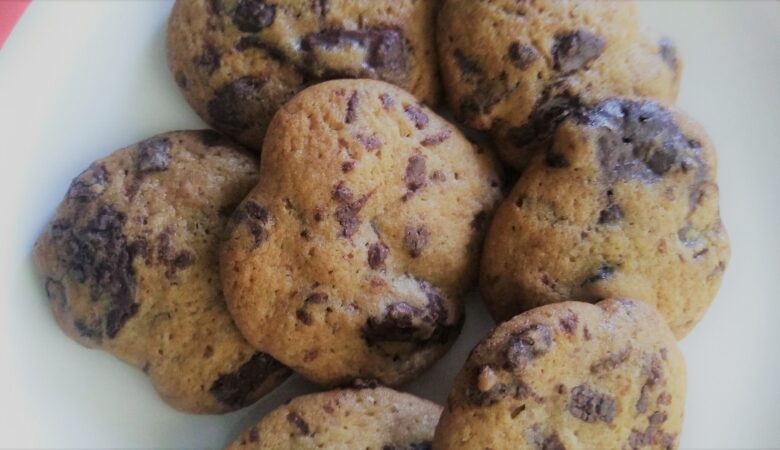 Ingredients
Organic Brown sugar – ¾ cup
Unsalted butter – ½ cup softened
Egg – 1 large
Vanilla essence – 1 tsp.
Organic Wheat Maida – 1.5 cups
Baking soda – ½ tsp.
Dark Compound Chocolate – 1 cup chopped into pieces and more for topping if you prefer
Salt – a pinch
Method
In a large bowl, mix together the softened butter and the brown sugar.
Add in the essence and egg and mix well.
In another bowl, sieve together wheat maida, salt and baking soda together.
Now add in the dry ingredients to the wet ingredients. Mix well with a wooden spoon.
Add in the chopped chocolate to the mix and combine well.
Place the bowl covered in the refrigerator for an hour at least.
Take a baking tray and place a sheet of parchment paper on it.
Take a cookie scoop and put scoops of cookie batter on the tray with place in between so that they don't stick together while baking.
Put in a preheated oven for 10-12 minutes at 180 degrees Celsius. Let the cookies cool for about 5-10 minutes before placing in an airtight container.
If you found this recipe easy to do, here are a few more cookie recipes that are a breeze to make…
a. Triple Chocolate Cookies
b. Marbled Choco Chip Oatmeal Cookies
c. Millet Choco Chip Cookies
d. Eggless Choco Chip Cookies
e. Chocolate Chip Cookies w Blueberry Centre
f. Crisp Chewy Chocolate Chip Cookies