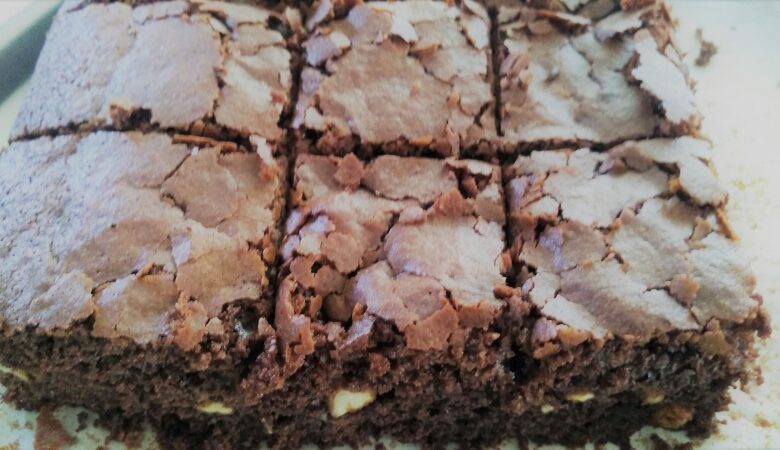 Ingredients
Maida – 1 cup
Condensed milk – 200 gms.
Salted butter – 50 gms., soft at room temp.
Dark chocolate – 100 gms, melted
Baking soda – ¼ tsp.
Baking powder – ½ tsp.
Cocoa – 2 tbsp.
Drinking chocolate – 2 tbsp.
Powdered sugar – 2 tbsp.
Vanilla essence – 1 tsp.
Milk – ½ cup, room temp.
Walnuts – 2 tbsp. chopped ( or cashew )
Method
Prepare a square cake tin – butter and dust with flour, and set aside.
Sieve the maida, baking powder, baking soda, cocoa and drinking chocolate in a large mixing bowl.
Now add in the condensed milk, butter, powdered sugar, essence, milk and mix well.
Next add in the chopped nuts and melted chocolate and using an electric hand mixer, mix well for a quick result.
Pour the brownie batter into the tin and bake in a preheated oven for about 30 mins. or so at 170 deg.celsius.
Check if done by pricking with a toothpick in the centre. If it comes out clean or with a few crumbs sticking to it, its done.
Take out the tin from the oven and cool. Dust with powdered sugar or icing sugar and cut into squares.
Here are some eggless recipes …..
a. Eggless Date and Cashew Cake
b. Eggless Millet Carrot Cake
c. Eggless Chocolate Chip Banana Bread
d. Toffee Cake