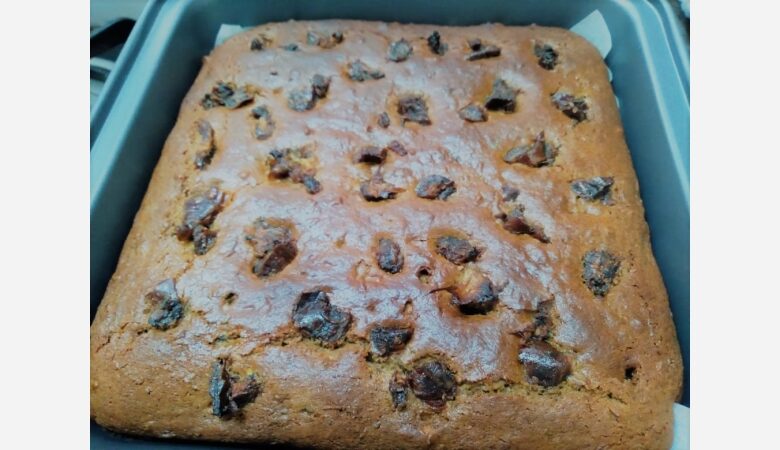 Dates are good for you ….. I mean the ones that you eat, not the ones you go out on… 🙂 As the trend nowadays is to eat eggless baked goods, this recipe is a good one to go to. With dates being the main ingredient, it sure is healthy and tasty.
Particularly, this is one of the first recipes I tried out without using eggs. Mostly I do my baking with eggs and this cake for a beginner of eggless baking, came out pretty pretty good. If you do not normally use eggs for baking your goodies, then this recipe is a must try.
Ingredients
Dates – 200 to 250 gms. deseeded and chopped
Soft cooking butter – 100 gms.
Condensed milk – 200 gms.
Maida – 1 ¼ cup
Baking powder – ½ tsp.
Baking soda – 1 tsp.
Salt – ½ tsp.
Vanilla essence – 1 tsp.
Cashewnuts – 50 gms. chopped
Dates – 2 tbsp. finely chopped
Method
Soak the dates in ½ cup of warm water for 3-4 hours before making the cake.
Sieve maida with baking powder and baking soda. Keep aside.
In a mixing bowl, add in the butter, vanilla essence and condensed milk. Stir till well combined.
Add the maida and dates alternately into the bowl and keep stirring well. If the batter seems too thick, add a little bit of the dates water.
Now add in the chopped cashewnuts.
Pour the batter into a greased and floured loaf pan and sprinkle some dates and cashew on top.(optional)
Bake at 180 degrees centigrade for 50 – 60 mins. approx..
Note – you can use apricots instead of dates and walnuts instead of cashewnuts.
For more such eggless recipes, you can try my
a. Eggless Oats and Date Cookies
b. Date and Cashew Bites
c. Eggless Chocolate Brownies
d. Eggless Chocolate Chip Banana Bread
e. Toffee Cake