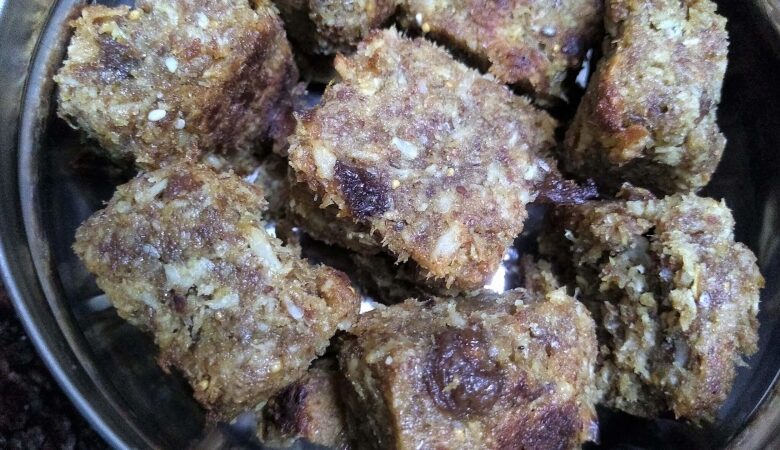 These energy squares is a recipe of chance. I made a batch of almond jowar coconut cookies and a bit of the cookie dough was left over. My husband said to try a different variety of an energy sweet bite. On his suggestion, we put in some dry fruits, nuts and seeds and set it to bake. Lo behold ! there was a tray of lovely yummy freshly baked batch of ….Baked Nutribites. I say, both of us were pretty thrilled that it turned out so good and moreover, there was no added fat. That was the clincher.
Ingredients
Powdered dry coconut – 100 gms.
Powdered jaggery – 100 gms.
Almond powder – 50 gms.
Jowar flour – 50 gms.
Water for binding – approx. 30 ml.
Raisins – 2 tbsp.
Cashewnuts – 2 tbsp.
Pista – 2 tbsp.
Sesame seeds – 2 tsp.
Melon seeds – 2 tbsp.
Pumpkin seeds – 2 tbsp.
Figs – 6
Method
Soak the cashew, raisins, figs, pumpkin and melon seeds for an hour. Grind all these together with the pista and sesame seeds.
In a bowl, mix the coconut powder, almond powder and jowar flour. Add in the jaggery and combine well.
Now add in the ground mix and stir well till a tight dough is formed by adding a little water at a time.
On a silicon mat, spread the dough and cut into pieces. Place these pieces on a lined baking tray and bake for about 10 mins. in a preheated oven at 180 deg.celsius.
For a varied combination of ingredients in energy bars and bites …..you can try these out
a. Raisins and Nuts Bar
b. Homemade Granola Bar
c. Date and Cashew Bites