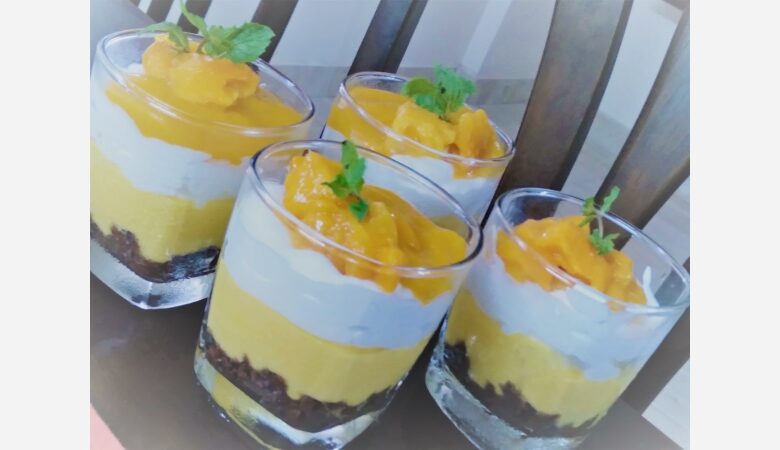 Ingredients
Choco chip biscuits – 12 to 15
Melted butter – ¼ cup
Whipping cream – ½ cup
Mango puree – 1 cup
Cream cheese – 100 gms.
Mango pieces – ¼ cup
Method
Place the cookies in a mixie jar. Pulse it a couple of times till it becomes a powder.
Take out the powdered biscuits into a bowl and mix in the melted butter. It should look like a crumb. Keep aside.
In another bowl, beat the whipping cream till stiff peaks are formed.
Take a different bowl and beat the cream cheese till smooth. Now add into it the mango puree and mix well. Keep aside.
Now take the glasses or any other jar or dish to layer the parfait.
Firstly layer with the crumbed biscuits. Next pipe in the cream cheese mango mixture. On top of this layer add the whipped cream. Top it off with a spoonful of mango puree and a couple of mango pieces on top. Keep the glasses in the refrigerator till you are ready to eat.
You can also check out my other mango recipes here…..