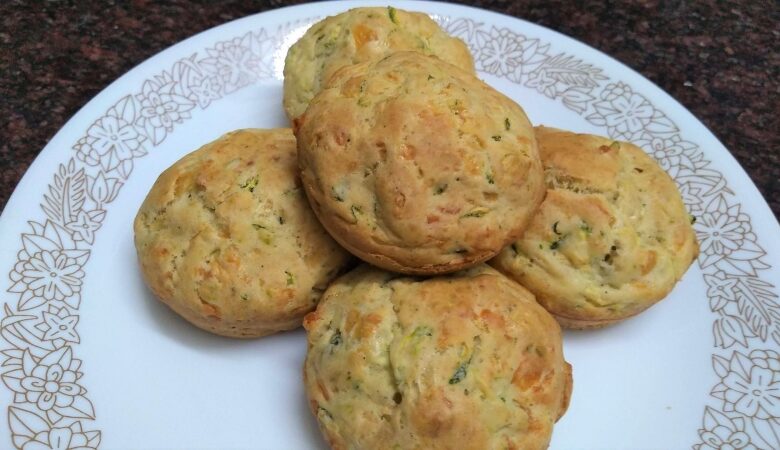 Ingredients
Maida – 180 gms.
Baking powder – 1 ½ tsp.
Salt – 1 tsp. ( can check for taste)
Pepper powder – 1 tbsp.
Milk – 100 ml
Egg – 1
Olive oil or any other oil – 1 tbsp.
Zucchini – 70 gms. grated
Cheddar cheese – 50 gms. grated
Spring onion – 1 finely chopped
Mixed dried herbs – 1 tsp.
Onion powder – 1 tsp.
Capsicum – ¼ cup finely chopped pieces
Parmesan cheese – ¼ cup
Method
Preheat the oven to 170 degrees C and generously grease a muffin pan.
In a bowl, combine the flour, baking powder, salt, pepper, herbs, onion powder and keep aside.
Whisk the milk, egg, and oil together in a bowl. Then add the dry ingredients to it and mix well.
Now stir in the zucchini, cheddar cheese, parmesan, spring onion and capsicum. You will get a very thick batter.
Spoon the batter into the prepared muffin pan till ¾ full and bake for approx.. half an hour. The tops will be lightly golden and a toothpick inserted in the centre comes out clean.
Let the muffins cool in the pan for around 10 mins. before removing them. Store in an airtight You can keep it at room temperature for a maximum of 2 days.
Note – I ate mine with a slather of butter on top. Yum !!!
More cheese related recipes are listed down here…..
a. Veg Au Gratin
b. Baked Mixed Veg Pasta
c. Mera Risotto
d. Cheese Biscuits
e. Spinach Corn Mix