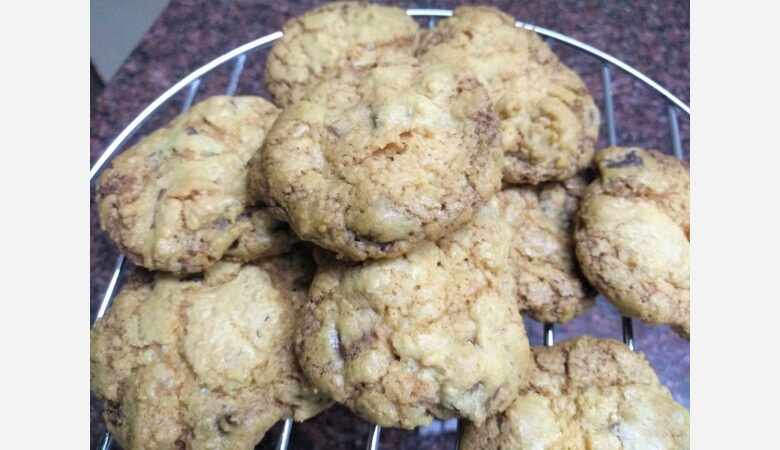 Ingredients
Salted butter – ½ cup
White sugar – 1 cup
Egg – 1 large, beaten
Vanilla essence – 1 tsp.
Maida – 1 ¾ cup
Baking soda – ½ tsp.
Chocolate chips – 1 cup ( semi sweet, milk or dark )
Method
In a bowl, cream butter and sugar well. Add the egg and essence to it and beat till well combined.
In another bowl, sift the maida and baking soda together and add in the chocolate chips.
To the creamed mix, add in the dry mix slowly and whisk till well combined.
Mix the dough well and cover with cling film. Chill in the fridge for a minimum of an hour.
Preheat the oven to 180 °C.
Remove the dough and shape into balls. Place them on the baking sheet and press down with a fork. Can put more chocolate chips on top if you desire.
Bake for about 15 mins approx. Cool and serve. Enjoy !
For more such easy and chocolatey cookie recipes, click here…
a. Triple Chocolate Cookies
b. Fudge Chocolate Brownie Cookies
c. Dark Chocolate Cookies
d. Classic Milk Chocolate Chip Cookies
e. Dreamy Double Chocolate Cookies
f. Crisp Chewy Chocolate Chip Cookies