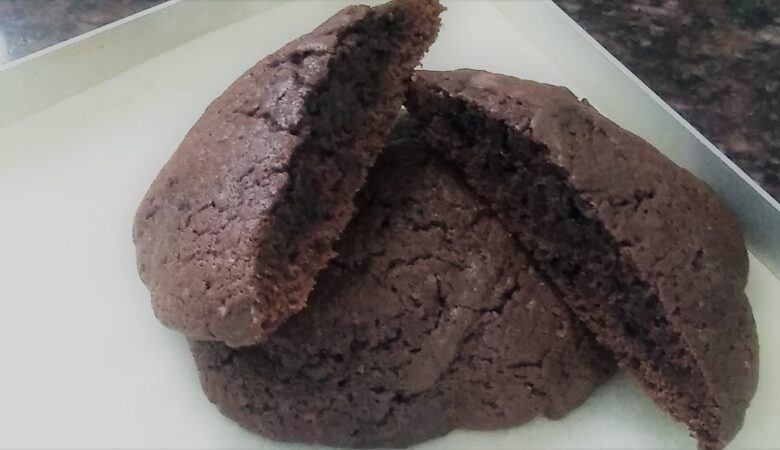 Ingredients
Cocoa powder – ½ cup
White sugar – ½ cup
Brown sugar – ½ cup
Melted cooking butter – ½ cup
Vegetable oil – 3 tbsp.
Egg – 1
Vanilla essence – 2 tsp.
Maida – 1 1/3 cup
Baking powder – ½ tsp.
Salt – ½ tsp.
Semi sweet chocolate chips – 1/3 cup ( can use more if desired )
Method
Preheat oven to 170 °C. Line 2 baking trays with parchment paper.
In a bowl, mix together the cocoa powder, sugars, melted butter and oil.
Now beat in the egg and add vanilla essence.
Add in the maida, baking powder and salt. Mix well. Fold in the chocolate chips.
Put scoops of the dough on the baking paper and bake for 10 mins. approx.. The cookies will be soft when they come out soft from the oven but will harden up as they cool. Don't overbake.
Allow to cool in the tray for about 10 minutes before placing on the wire racks to cool.
If you love these cookies, you might like my Flourless Chocolate Cookies too. A couple of other favourite recipes of mine are Nutty Dark Chocolate Fudge and Chocolate Fudge with Nuts. Both the fudge recipes are delectable and so yummy fudgy.
If you are just looking for some simple choco chip cookies, you can try out my…
a. Classic Milk Chocolate Chip Cookies
b. Dreamy Double Chocolate Cookies
c. Crisp Chewy Choco Chip Cookies
d. Easy Chocolate Chip Cookies
e. Eggless Choco Chip Cookies