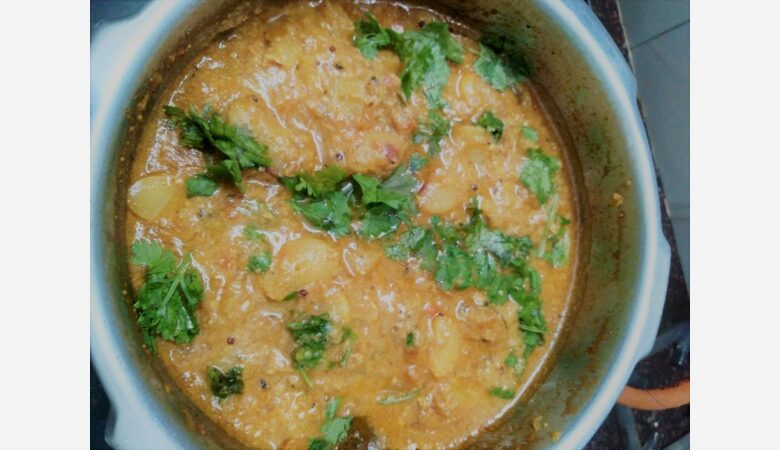 This one is for keeps…..Protein rich, Easy to make, Gets done quickly in a Pressure Cooker, and most important of all – Absolutely Tasty. Eat together with a small bowlful of Jeera Rice or a couple of Phulkas or Chapathi, and the tummy is happy 🙂
If you already have the paste in a bottle, ready and done earlier, it doesn't take much time. Otherwise, grinding the masala will take a few minutes extra. Preparing this dish using the pressure cooker will save you some time.
Ingredients
To make the kurma curry
Double beans – 1 cup ( soaked overnight and skin removed )
Onion – 1 large, chopped
Tomatoes – 2, chopped
Garam masala powder – 1 tsp.
Rajma masala powder – 1 tsp.
Kashmiri chilli powder – 1 tsp.
Turmeric powder – ¼ tsp.
Oil – 1 tbsp.
Mustard seeds – ½ tsp.
Curry leaves – a few
Coriander – a handful
Salt – to taste
Water – as required
For masala paste

Coconut pieces – ½ cup
Chana dal – ½ tbsp., fried
Khus khus or poppy seeds – 1 tsp.
Garlic – 5 pods
Ginger – 1 tbsp. chopped
Green chilli – 1, chopped
Saunf or fennel seeds – ½ tsp.
Method
Add all the ingredients under the masala paste section into the grinder and make into a smooth paste. Add very little water. Keep aside.
In a pressure pan, add in the oil, and once hot, add in the mustard seeds and once they splutter add in the curry leaves. Add in the garam masala powder and saute.
Now add in the onions and fry till translucent. Then add in the tomatoes. Once they become soft, add the turmeric and chilli powder. Saute well.
Now add in the double beans and mix well. Also add in the rajma masala powder and stir,
Next add in the prepared masala paste and about a glass of water. Add in the salt and mix well.
Pressure cook for 3-4 whistles. Once the cooker cools down, open and give the curry a good mix. Check for taste. Garnish with coriander.
For more gravy dishes or masala curries —–
a. Babycorn Paneer Peas Masala
b. Black-eyed Beans Gravy
c. Rajma Masala Curry
d. Potals Curry