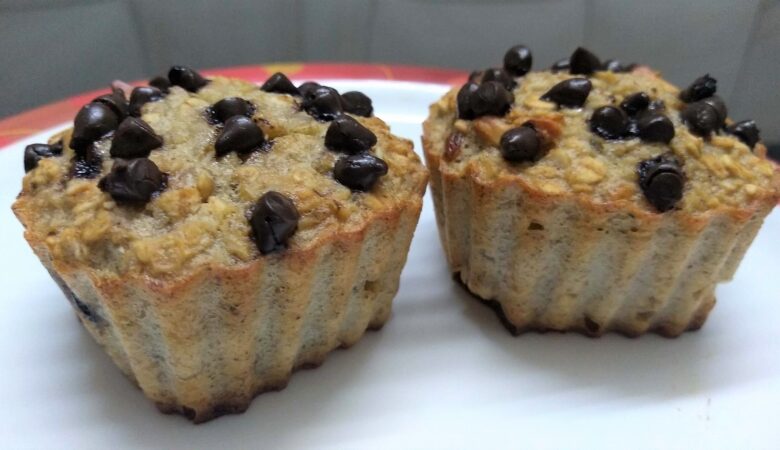 Ingredients
Rolled Oats – 1 ½ cups
Bananas – 2 ripe and soft ( more ripe—more sweet; remember there is no sugar added )
Milk – ¾ cup
Egg – 1
Mini chocolate chips – 1/3 cup
Dried blueberries/cranberries/ raisins/ cashewnuts – ½ cup
Baking powder – 1 tsp.
Cinnamon powder – ½ tsp.
Nutmeg – a pinch
Salt – ½ tsp.
Method
Preheat oven to 180 degree centigrade and grease a muffin tray with butter or coconut oil. Keep aside.
Take a big bowl and put the oats into it. Add the salt, baking powder and cinnamon to it. Just grate a pinch of nutmeg into the bowl. Gently mix all together and set aside.
In another bowl, take the banana and mash it up with a fork. Now add in the egg and give it a good mix.
Next pour in the milk and stir till well combined.
Now take the wet ingredients and add it to the dry ingredients. Mix everything properly till you get a nice smooth batter.
At this stage, add in your dry fruits and some of the chocolate chips.
Pour the batter into the muffin tray and sprinkle the remaining chocolate chips on top.
Bake for around 20 minutes till they are baked through and are golden brown on top.
Cool and remove from the muffin tray and store in air tight containers.
They are best when warm. You can store for a longer period in the refrigerator and when you want one, just pop it into the microwave to warm it up. Its more delicious with some peanut butter or almond butter.
Here are some more options for breakfast – the most nutritious Energy Bars.
a. Baked Nutribites
b. Homemade Granola Bars
c. Raisin and Nuts Bar
d. Berries and Seeds Bar