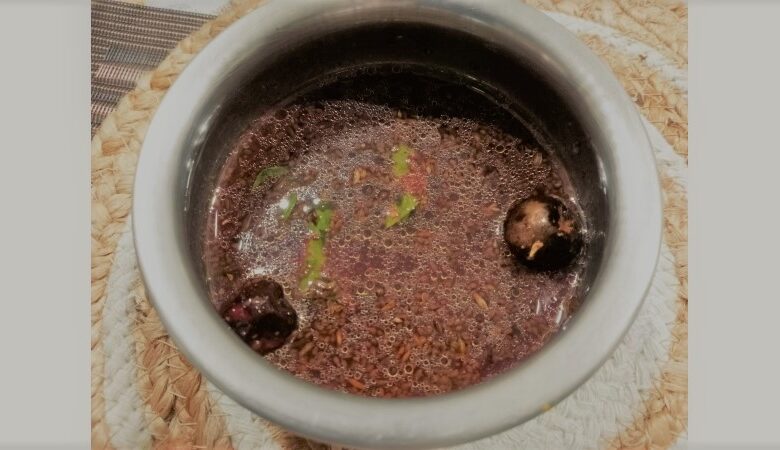 Beetroot is very good for health….all of you must know that. Here I have given a very simple recipe for beetroot rasam. It is like such a light, refreshing drink that sometimes I just have a glass of the rasam like an appetizer before lunch.
Now and then, I make beetroot juice and also a very easy beetroot fry. I like to eat the Beetroot Fry with a dollop of hot white rice. It actually goes quite well with phulka or chapathi too.
My mom makes really tasty beetroot cutlets, but I don't know how to. Next on my list is to learn how to do those from her. Once I make them, I'm going to post the recipe here. But now lets see how to make beetroot rasam.
Ingredients
Beetroot – 1 small
Tomato – 1 large
Rasam powder – 2 tsp.
Tamarind – a small piece
Garlic cloves – 4
Coriander – 1 tbsp. chopped
Oil – 2 tsp.
Hing – a pinch
Mustard seeds – ½ tsp.
Curry leaves – a sprig
Green chillies – 2, sliced
Grated coconut – 2 tbsp.
Salt to taste
Method
Peel and pulse the beetroot very finely in a chopper. Cut the tomato into big pieces and make a coarse puree.
Take a pressure cooker. Add the oil into it. Once it is hot, add in the hing, mustard seeds, curry leaves, green chillies and garlic.
Now add in the beetroot, tomato, coconut and tamarind. Mix in the rasam powder and salt.
Pour in about 2 glasses of water and pressure cook for 5 whistles or so.
Open the lid and check the rasam for taste. Add in salt if required or even rasam powder and sprinkle the coriander on top. Give it a boil once again and serve hot.