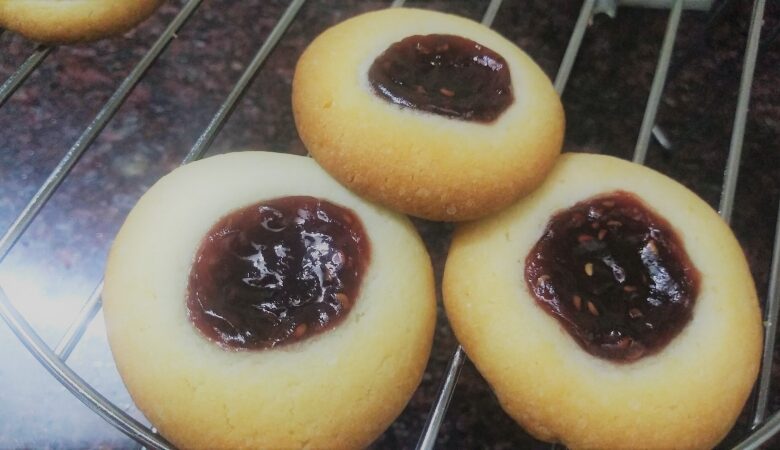 Ingredients
Butter – 100 gms, unsalted, softened
Sugar – 100 gms, powdered
Maida – 160 gms.
Egg – 1 small
Vanilla essence – ½ tsp.
Baking powder – ¼ tsp.
Salt – ¼ tsp.
Raspberry jam – 30 gms. approx..
Method
Pre-heat the oven to 180°C. Line the baking trays with parchment paper and keep aside.
Beat together the softened butter, sugar and vanilla essence until pale and fluffy.
Now add in the beaten egg and mix until well combined.
Now add in the maida, baking powder and salt. Mix well till a soft dough is formed.
Roll the dough into small balls and place on the baking sheet. Press down the dough ball a little and make a sort of a dent in the centre of each.
Now add in about a ½ tsp. of jam into each hollow in the centre.
Bake for around 10 to 12 mins. till the edges start turning a light shade of brown. Cool on a wire rack and store in air tight container.
If you like these thumbprint cookies, you will surely love my Nutty Thumbprint Cookies w Apricot Jam Centres too….