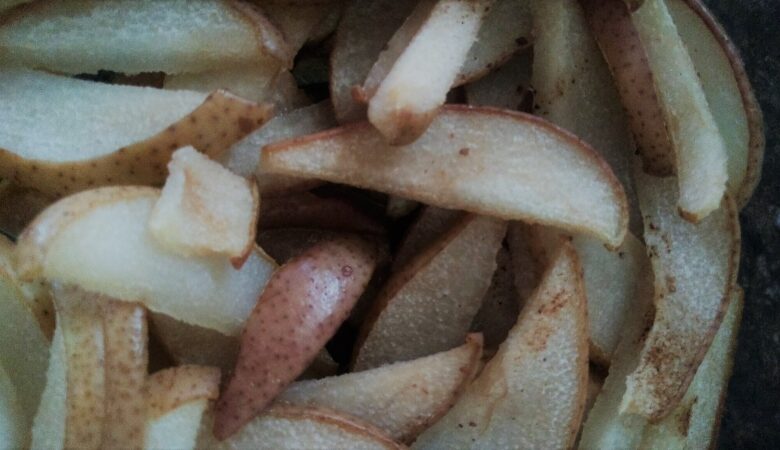 Earlier the availability of pears in my town was scarce, very seasonal and occasional. Lets say thanks to continuous evolvement, now pears are a common sight. One cannot say whether a particular variety available in the stores will be seen again in a month's time or not. But nowadays, varied types of pears are seen on shelves in the supermarkets almost all through the year.
I know that the pear is best eaten raw in its natural form, still sometimes I like to stew them so that they have an extra sweet zing. This time around, I got hold of some golden pears that I hadn't seen earlier. I made a quick grab of a few before the shelf got empty :). The first thing I did when I came home was to eat one. It was too good. I just made a couple of pears more better by adding in a bit of sugar and water with a touch of cinnamon for that extra flavour and putting it in the oven.
Ingredients
Fresh Golden Pears – 2, chopped
Cinnamon powder – a pinch
Brown sugar – 2 tbsp.
Water – 1  to 1.5 cups
Method
Take an oven proof dish and in all the ingredients. Mix well.
Preheat oven to 200 deg. C. Place the dish for around 15 – 20 mins. at 170 deg.C. Mix it around once in between.
Sweet stewed pears are ready.
If you like some stewed pineapple, check out my recipe here