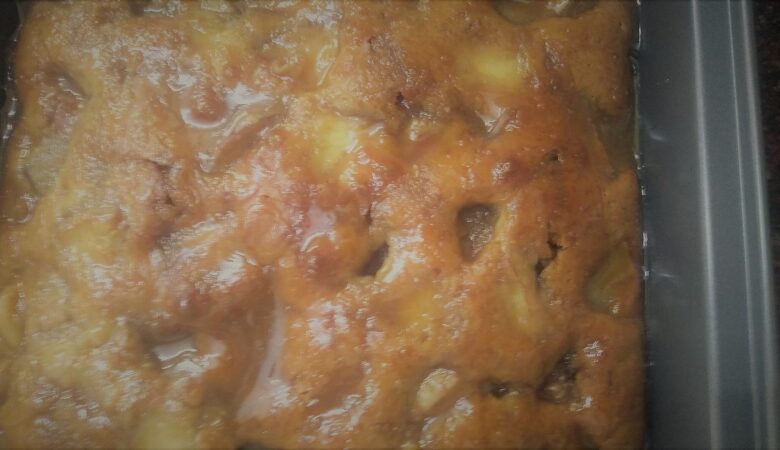 Ingredients
Eggs – 2, room temp
Oil – 1/2 cup (coconut oil or vegetable oil)
Sugar – 1/2 cup
Vanilla extract – 1 tsp.
Flour – 1.5 cups
Cinnamon powder – 1/2 tsp.
Baking soda – 1/2 tsp.
Salt – a small pinch
Apples – 2 cups, peeled and chopped into 1/4″ thick pieces
Ingredients for Caramel Sauce:
Brown sugar – 1/2 cup, powdered
Unsalted butter – 3 tbsp.
Milk – 2 tbsp.
Vanilla extract – 1/4 tsp.
Salt – a very small pinch
Method
Preheat oven to 180˚C and grease base and sides of a 9″ pan with oil or butter.
in a mixing bowl, mix together the eggs, oil, sugar and vanilla extract. Beat well till well blended.
In a separate bowl, whisk together flour, cinnamon powder, baking soda and salt.
Now add the dry ingredients into the wet ingredients until well incorporated.
Now mix in the apple pieces.
Transfer the batter into the pan and bake in center of oven for about 25-30 mins. or until a toothpick comes out clean.
Start making the sauce 5 minutes before the cake is out of the oven
Once the cake is done and out of the oven, poke it all over with a skewer. While still hot, pour the sauce evenly over the cake.
Give the cake a few minutes to absorb the syrup. Transfer cake to a plate, cut and serve.
How to make the Caramel Sauce:
In a saucepan over medium heat, mix together all the ingredients.
Bring to a low boil and continue to cook stirring gently for 3-4 minutes.
It should be loose and lightly coat a spoon, so that it is easily absorbed into the cake.
You can try a different variety of this recipe …. Nutty Apple Banana Cake
Apple Oat Muffins are also an easy to make loaded with the goodness of oats, almonds and wheat flour.