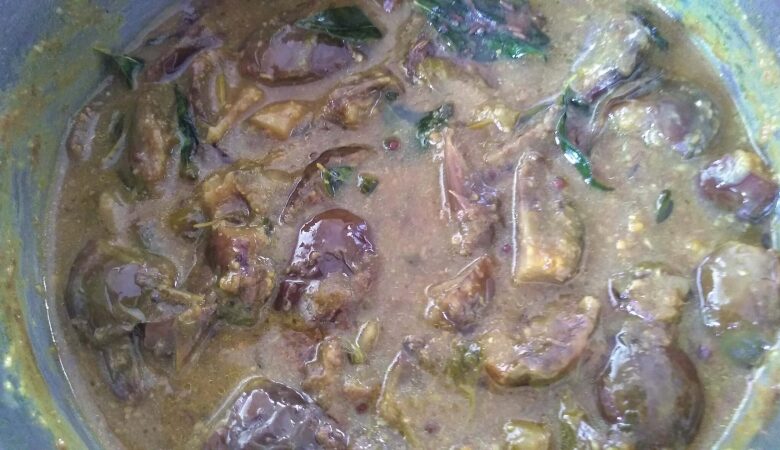 Here is a little story on how I came across this type of sambhar and the method.  It was suggested by my husband's friend and I saw the video on this recipe done by a Brahmin couple. This brinjal sambhar recipe was explained so clearly that I instantly made it as luckily I had all the ingredients at home. Instead of a Sambhar I would love to call it a Brinjal Gravy Curry.
The name Sivangi, I had never come to know in so many years. But now, I always keep a small bottle of this masala handy in my refrigerator. Basically the masala used for this recipe is a simple and aromatic blend of spices. It is a good addition for other dishes too.
Ingredients
Brinjal (small dark purple) – 300 gms.
Tamarind – juice from a lemon sized ball
Turmeric – ½ tsp.
Oil – 4 tbsp.
Sivangi masala powder – 4 tsp.
Jaggery powder – 1 tbsp.
Coriander – a handful
Curry leaves – 1 sprig
Mustard seeds – 1 tsp.
Asafoetida – a pinch
Oil – 2 tsp.
Salt to taste
Click here for the recipe of Sivangi Masala Powder  
Method
Gently cut off the tops of the brinjal and slice each one in 4 at the top. It should stay whole. Put the brinjals in salt water till you cook them so that they don't oxidize and change colour.
Take a pressure pan, pour oil into it. Once hot, add the brinjals and saute slowly for 5 mins. Sprinkle the turmeric over it. Once it changes colour, add the tamarind juice (about half a cup) and 1 cup of water together with salt and masala powder.
Pressure cook for 2 whistles. Once the pressure releases, check to see if the brinjal is done. If you want a more liquid consistency add some more warm water and give a little boil for a minute. Here if you want a stronger flavour, can add in more masala powder.
Now add in the jaggery and chopped coriander and mix well. Adjust the salt. Do the tempering with oil, mustard seeds, curry leaves and hing and pour over the vegetable sambhar.
If you like this recipe, you might also like to try out my Ash Gourd Masala Gravy or White Pumpkin Curry.