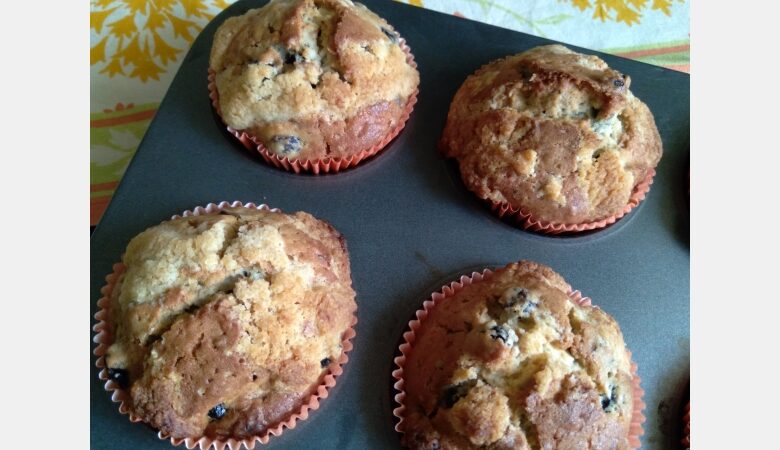 The story behind this recipe…….
My friend from the US got me a packet of dried blueberries. I ate quite a lot of them over a couple of months and then I decided to try out some recipe using these instead of just popping them into my mouth. Most of the recipes that I saw used fresh blueberries. Now, that is not possible here for me, at home.
So, after a bit of a web hunt, I must say, I decided to tweak a recipe and substituted fresh for the dried ones. On my first attempt, it didn't turn out good. The next time, I soaked the dried ones in a little water for a while till they had a sort of plump look and then used these blueberries in the muffin recipe. The blueberry muffins turned out awesome and furthermore, I made them again and again till I ran out of them. Now, I'm waiting for my friend to get me some more…:)
Ingredients
For the streusel topping
Maida – 1/3 cup
Brown sugar – ¼ cup
Baking powder – ¼ tsp.
Cinnamon powder – ¼ tsp.
Cold unsalted butter – 3 tsbp.
For the muffin batter
Unsalted butter – ½ cup, softened, at room temp.
White sugar – 1 cup
Lemon zest – ½ tsp. (optional)
Eggs – 2
Maida – 2 ½ cups
Baking powder – 2 tsp.
Salt – ¼ tsp.
Nutmeg powder – ¼ tsp. (optional)
Milk – ½ cup
Dried blueberries – ¾ cup ( soaked in water for an hour and drained )
Method
For the streusel topping
Mix all the ingredients together for a crumb like look. Keep aside.
For the batter
Mix together the butter, zest and sugar in a large bowl.
Add in the eggs to this mix and combine well.
In another bowl mix together the maida, baking powder, salt and nutmeg powder.
Now add in half the flour to the earlier mixture and pour in the milk. Mix well.
Then add the balance of the flour into the bowl and combine to form a fluffy batter.
Lastly add in the blueberries. Give it a very gentle mix.
Put the batter in muffin cups and sprinkle some streusel topping on them. You can also use a muffin tray with muffin paper liners.
Bake in a preheated oven for 30-35 mins. @ 180 deg.C.
For more muffin recipes, click here……
a. Apple Oat Muffins
b. Breakfast Muffins
c. Mini Brownie Muffins