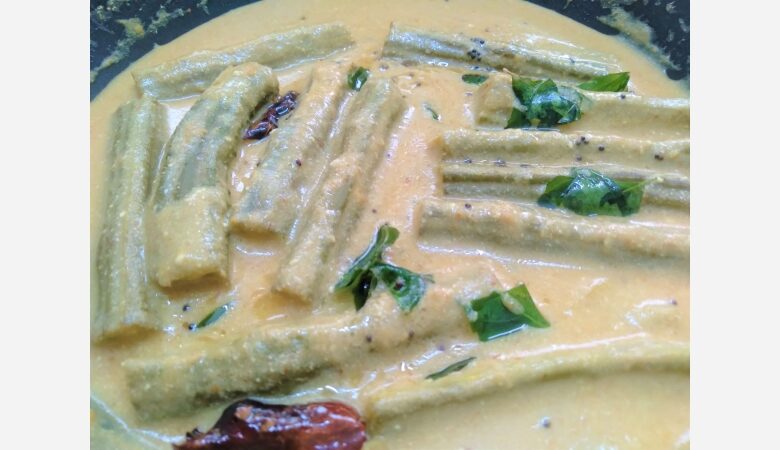 I am a huge fan of this vegetable…Drumstick. When in season, I just love to eat a tasty drumstick masala curry with steaming hot rice at least once a week, if not more. See, there are other recipes with drumstick too that I make a lot. Luckily, the whole family too loves any dish made with drumstick and this suits me just fine. Now that everyone is labelling this as a superfood, all the more better that we consume it more often.
This particular recipe was just sitting in my recipe collection for quite some time now. I had been wanting to try this one out since ages, and got around to doing it today for lunch. It tasted too good and the whole lot got over. It was a good thing that I got to take a pic. Now I am waiting to buy the next set of drumsticks to make this recipe again.
Ingredients
Drumstick – 1, chopped into big pieces
Curd – ½ cup
Turmeric – ½ tsp.
Dessicated coconut – 1 tbsp.
Rice – 1 tsp.
Coriander seeds or Dhaniya – 1 tsp.
Cumin seeds – 1 tsp.
Mustard seeds – 1 tsp.
Curry leaves – a few
Red chillies – 3
Salt to taste
Oil – 1 tsp.
Method
Soak rice in little bit of warm water for at least 15 mins. Dry roast the coriander seeds and keep aside.
Pressure cook the drumstick pieces for just a couple of whistles. Then immediately drain, remove and keep the drumstick pieces aside in a separate bowl.
Take a mixie jar and add in the rice, coconut, cumin and coriander seeds, red chillies and make a smooth paste by adding a little bit of water.
Put this mixture in a kadai and cook for a couple of minutes. Add in the curds, drumsticks, turmeric and salt. Cook for 3-4 minutes and turn off the stove. Depending on your choice of consistency, can add some more water while cooking.
Do the tempering with red chilli, mustard seeds and curry leaves and pour it on top of the curry.
It is best served with hot steaming rice.
Here are some more drumstick recipes …
a. Moringa Dal or Drumstick Leaves Dal
b. Drumstick Tomato Masala Curry
c. Drumstick Curd Chutney