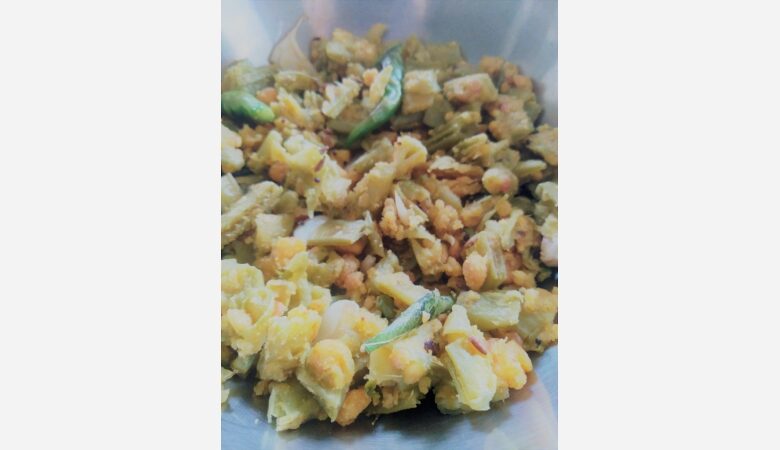 It is very rarely that I eat cluster beans. I know that they are good for health and all that, but somehow haven't gotten around to liking them. Still, I eat them once in a while. To make this vegetable more tasty and interesting, I tried out this recipe and it turned out well. It was a good combination with white rice and everyone at home enjoyed eating this curry. You must try it too……
* This recipe was given by my paternal aunt. She is a good cook and some of my veg fry recipes here are what she has told me about years ago. Now and then, I keep referring to her recipe notes to make the vegetable curries.
The other recipe she told me about is the Cluster Beans Masala Curry which has potato with tomato and onion masala pressure cooked to perfect yumminess.
Ingredients
Cluster beans or Goruchikkudu – ¼ kg.
Onion – 1, chopped
Green chillies – 2 or 3
Ginger – 1 cm. piece
Oil – 3 tbsp.
Chana flour or sengapindi – 3 tbsp.
Method
Wash, clean, dry and cut the cluster beans into bite size pieces.
In a mixie jar, grind together onion, ginger and green chillies.
Pressure cook the cluster beans with a bit of salt and keep aside.
In the same pan, add oil and fry the ground paste on sim or very low flame till well done.
Add in the cluster beans and mix. Now sprinkle the chana flour or senagapindi over the vegetable and stir till properly combined. Continue frying for a few more minutes till the flour gets fully cooked and incorporated.
Remove into a serving bowl and enjoy with hot rice.
For more simple veg fry recipes, click here….
a. Potato and Peas Fry
b. Raw Banana Dry Veg
c. Tindora or Dondakaya Coriander Dry Veg
d. Country Beans or Chikkudikaya Fry w Coconut
e. Chow Chow Coconut Fry