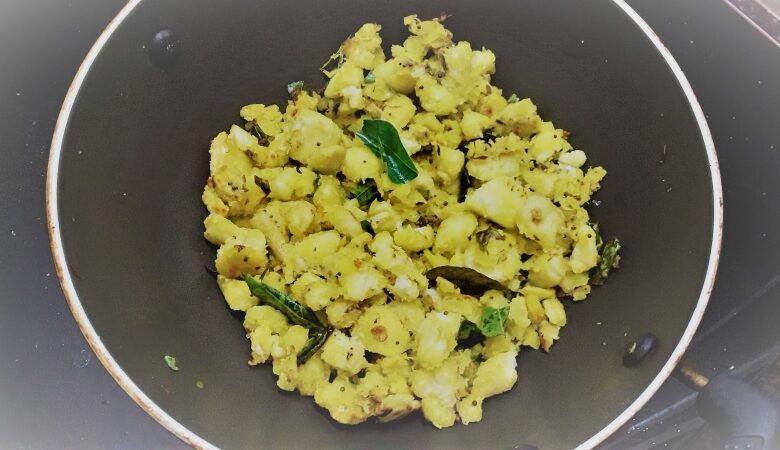 Ingredients
Raw bananas – 2 roast and mash
Green chillies – 2 chopped (adjust according to your spice taste)
Ginger – 2 tsp. finely chopped
Turmeric – ¼ tsp.
Mustard seeds – 1 tsp.
Cumin seeds – 1 tsp.
Split urad dal – 2 tsp.
Curry leaves – a few
Salt to taste
Oil – 2 tbsp.
Lemon juice- 1 tbsp.
Method

1. Roast the raw bananas in a microwave.
How to roast raw banana in a microwave – Wash, clean and wipe dry the raw bananas. Make 4 cuts or slice through the raw bananas at 4 places. Wrap each in a paper towel or paper napkin. Put them in the microwave on high for 3 minutes on each side. Feel to check if soft and cooked. It should not be over cooked. Remove and cool. Peel the skin and mash it with your hands or a masher. Keep aside. Don't make it like a paste.
2. In a small mortar –pestle, mash the green chillies and ginger to form a coarse paste. Keep aside.
3. Take a kadai. Once hot, add oil into it. Then add the urad dal and fry for a few seconds. Once it changes colour, add the mustard and cumin. Stir well.
4. Now add the green chilli ginger paste and curry leaves. Fry well.
5. Add in the turmeric and mix everything together.
6. Now add in the mashed raw banana together with salt and mix well.
7. Cover and cook for a couple of minutes on a low flame.
8. Once done, switch off the stove and add the lemon juice. Mix well and serve.
You will also like these recipes of simple, easy to make dry veg / fry for lunch……