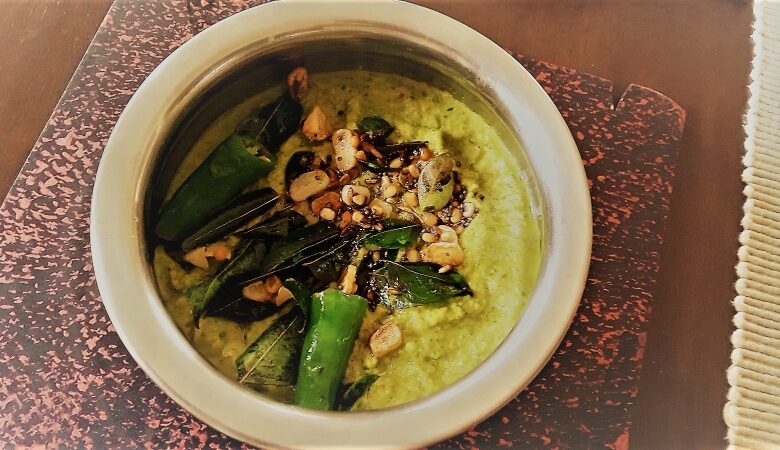 Ingredients
Yellow cucumber –  1 (chopped into small pieces, with the seeds)
Green chillies – 3 sliced (adjust according to your spice taste)
Tamarind –  a small piece
Turmeric – ¼ tsp.
Coconut – ½ cup grated
Coriander – ½ cup chopped
Garlic – 5 pods ( 3 whole and 2 chopped finely )
Cumin seeds – 2 tsp.
Mustard seeds – 1 tsp.
Split urad dal – 2 tsp.
Curry leaves – a few
Hing or asafoetida – a pinch
Salt to taste
Oil – 1.5 tbsp.
Method
Take a kadai. Once hot, add 1 tbsp. oil into it. Then add the tamarind and green chillies and fry for a minute. Remove and keep aside.
In the same vessel, add in the cucumber pieces with turmeric and sauté for a couple of minutes. Remove and keep aside.
Now add in the coconut and coriander in the same vessel and fry for a minute. Remove and keep aside.
In a mixie jar, add in the 2 whole garlic pods, 1 tsp. of cumin, fried green chillies, tamarind, coconut, coriander and salt. Blend to a coarse paste.
Now add the cucumber pieces and blend again. Don't make it into a paste. Let little pieces of cucumber be visible. Check for taste.
In the same kadai, heat oil and do the tempering with mustard, cumin, split urad dal, chopped garlic pieces, curry leaves and hing. Turn off the heat and pour over the chutney.
Here are some more of my loved chutneys that are a very good accompaniment to white rice.
a. Raw Yellow Cucumber Chutney
b. Ivy Gourd or Dondakaya Chutney
c. Bottle Gourd Tomato Chutney
d. Green Brinjal Coriander CHutney
e. Carrot Chutney
f. Ridge Gourd Chutney