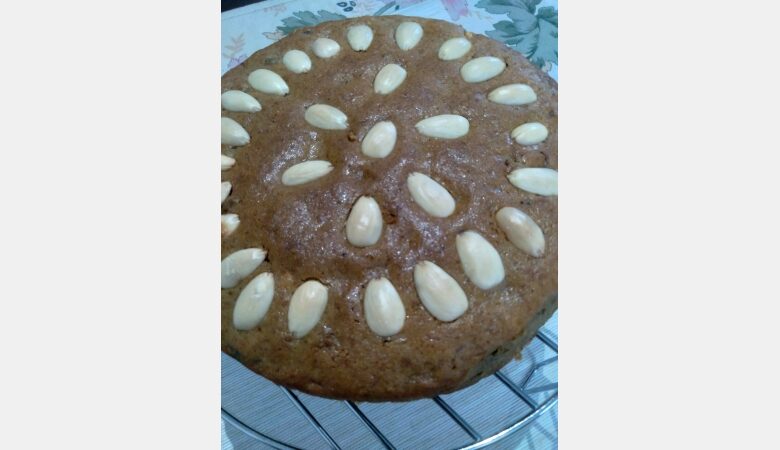 Ingredients
Warm milk – ½ cup
Lemon juice – 1 tbsp.
Maida – 1 ¼ cup
Almond powder – ¼ cup
Dry fruits (mixed) – ½ cup
Powdered sugar – ¾ cup
Oil – ½ cup
Baking powder – 1 tsp.
Baking soda – ½ tsp.
Cinnamon powder – ½ tsp.
Cardamom powder – ½ tsp.
Salted butter – 2 tbsp.
Lemon zest – 1 no.
Orange zest – ½ no.
Vanilla essence – 1 tsp.
Blueberry crush – ¼ cup
Nuts (mixed) – ½ cup
Milk – 2 tbsp.
Blanched almond halves – 20 (skin removed)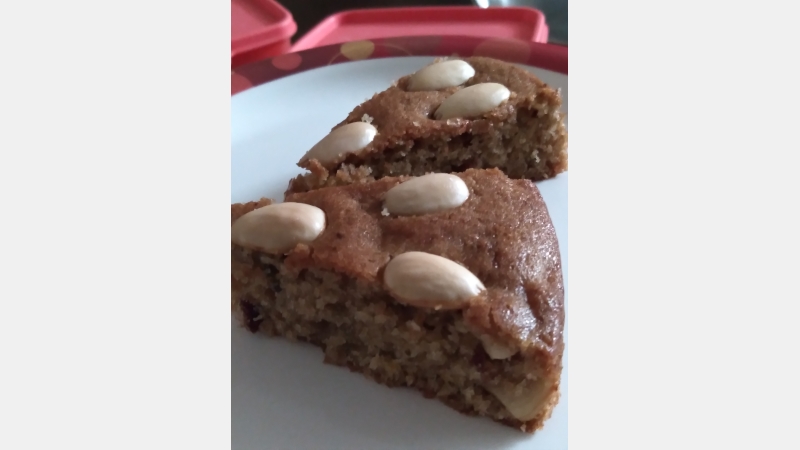 Method
In a small bowl, take the warm milk and add the lemon juice to it. It will curdle a bit. Mix and keep aside.
In another bowl, sieve maida, baking powder, baking soda, cardamom and cinnamon powders together. Keep aside.
Into this bowl, add in the almond flour and dry fruits. Mix well.
Now, take another big bowl and add into it the curdled milk. To this add the powdered sugar, oil, salted butter, lemon and orange zest, vanilla essence and blueberry crush. Stir till completely combined.
Next add the dry ingredients into this mixture and stir properly. Add milk to adjust the batter consistency. It should not be too thick.
Grease and dust and a round cake mould. Pour in the batter and tap to release the air bubbles.
Now arrange the almond halves in a circle all around the top of the cake batter.
Bake in a preheated oven for about 40-45 mins. at 170 deg.C.
Depending on your individual oven settings, check after half an hour or so. The cake is done when a cake skewer inserted comes out clean maybe with a few crumbs.
Cool and cut into pieces and serve.
You will love my other cake recipes too….some are eggless
a. Toffee Cake
b. Nutty Apple Banana Cake
c. Millet Carrot Cake
d. Date n Walnut Tea Cake