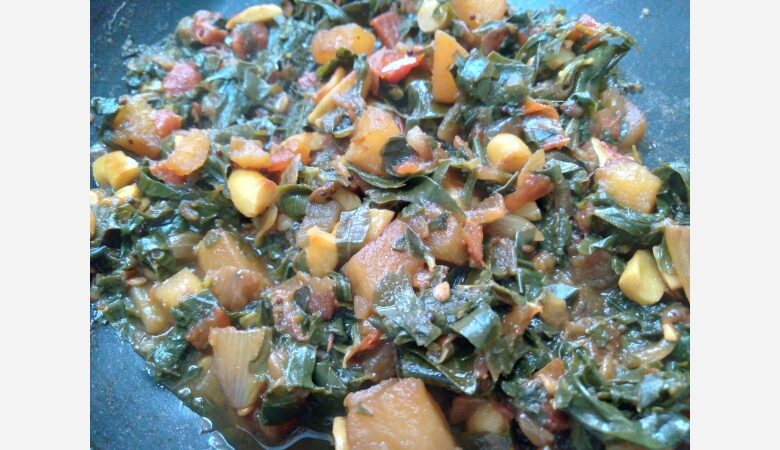 Ingredients
Ponnaganti – 2 bunches
Onion – 1 large, chopped
Tomato – 1, chopped
Potato – 1 small, chopped
Cashewnuts – 2 tbsp.
Green chillies – 3 or 4 sliced
Ginger garlic paste – 1 tsp.
Mustard seeds – ½ tsp.
Cumin seeds – 1 tsp.
Split urad dal – 1 tsp.
Salt to taste
Red chilli powder – 1 tsp.
Turmeric powder – a pinch
Oil – 2 tbsp.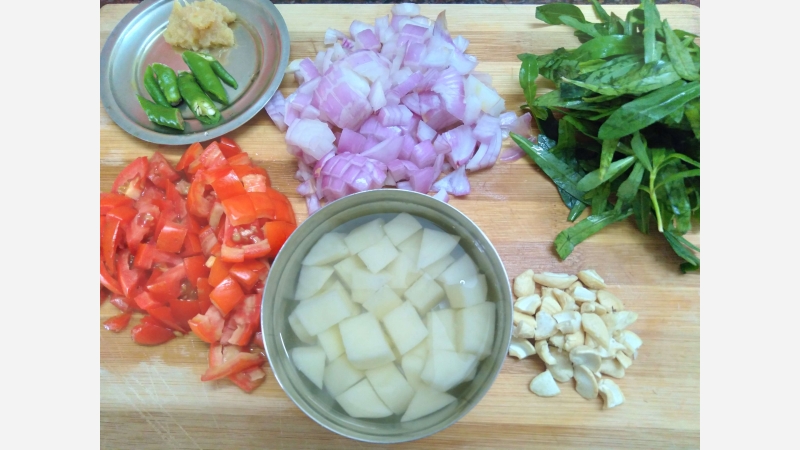 Method
Wash, clean and cut the green leafy vegetable and keep aside.
In a kadai, heat oil and add in the mustard, cumin and split urad dal. Saute for a minute.
Now add in the green chillies and onion pieces. Mix well. Stir fry till the onion is semi cooked.
Next add in the potato pieces and the ginger garlic paste. Mix well. Cover and cook till the potatoes turn soft.
Now add in the tomato pieces, cashew bits, salt, red chilli powder, turmeric powder and cook for 2 to 3 minutes till tomatoes turn mushy.
Add in the cut greens and stir fry till well combined. Cover and cook till the raw taste and smell of the greens is gone.
At this stage you can add in more chilli powder or salt if necessary. Cover and cook for 2 minutes. The green leafy curry is ready.
It can be eaten with both rice or roti as an accompaniment.
For more recipes with green leafy vegetables, you can try out ……