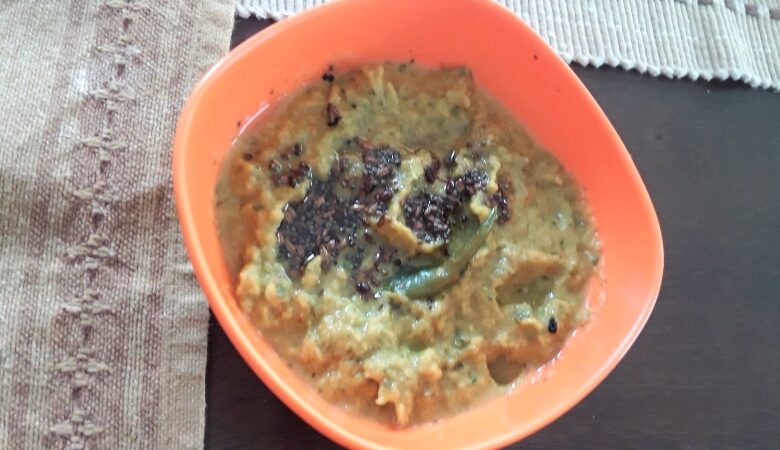 Ingredients
Tindora or Ivy gourd or Dondakaya – 10 to 12 chopped lengthwise
Onion – 1 chopped
Tomato – 1 chopped
Ginger – 2 tsp. chopped
Green chillies – 2 sliced (adjust according to your spice taste)
Turmeric – ¼ tsp.
Garlic – 3 pods chopped
Cumin seeds – 2 tsp.
Mustard seeds – 1 tsp.
Split urad dal – 2 tsp.
Curry leaves – a few
Hing or asafoetidsa – a pinch
Salt to taste
Oil – 2 tbsp.
Method
Take a kadai. Once hot, add oil into it. Then add the dondakaya pieces into it and fry well. Cover and cook for a few minutes till semi soft.
Now add in the onion, ginger and green chillies, garlic and curry leaves. Sauté for a couple of minutes.
Now add in the tomato, salt, turmeric and mix well. Fry for a few minutes till it all blends together. Cool the mixture.
In a mixie jar, blend the mixture by adding a little bit of water if you wish. Check for taste.
Do the tempering with oil, urad dal, mustard, cumin, and hing pour over the chutney.
Here are some more of my loved chutneys that are a very good accompaniment to white rice.
a. Raw Yellow Cucumber Chutney
b. Vankaya Tomato Pachadi
c. Bottle Gourd Tomato Chutney
d. Green Brinjal Coriander Chutney
e. Carrot Chutney
f. Ridge Gourd Chutney
g. Curry Leaves Chutney
h. Dondakaya Peanut Chutney