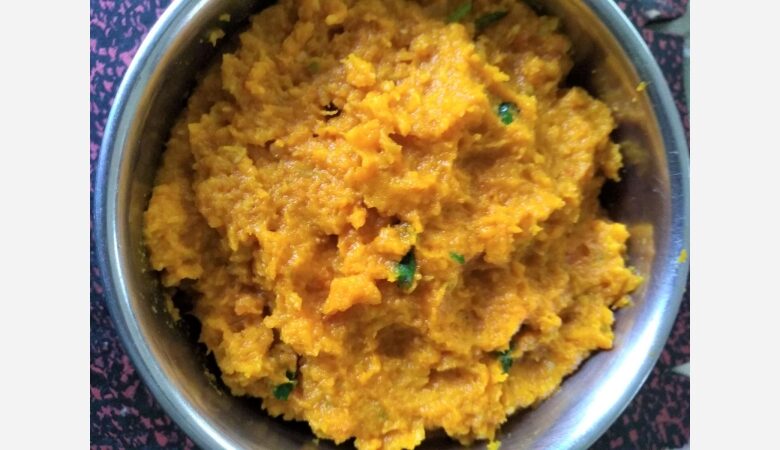 Ingredients

Carrots – 4, grated
Urad dal – 1 tbsp.
Green chillies – 2, chopped
Tomato – 1, chopped
Oil – 1 tbsp.
Grated Coconut – 1 tbsp.
Lemon juice – 1 tsp.
Coriander – 1 tbsp. finely chopped
Salt to taste
Tempering
Curry leaves – a sprig
Mustard seeds – ½ tsp.
Method

1. Take a kadai or saucepan, add a ½ tsp. of oil and once hot, add the urad dal and green chillies and fry for a minute till dal turns brown. Remove and keep aside.
2. In the same pan add another ½ tsp. of oil and put the grated carrot into it. Close with a lid and cook till half done. Then add the chopped tomato to it alongwith salt, mix well and cook till done.
3. Now in the grinder jar, first blitz the urad dal and green chillies. Then add the carrot mix to it together with the grated coconut and blend well.
4. Remove into a bowl and add the chopped coriander and lemon juice to it. Do the tempering and add to the chutney. Enjoy with hot rice.
If you like this recipe, you will surely enjoy making these too…
a. Bottle Gourd Peel Chutney
b. Bottle Gourd Tomato Chutney
c. Anapakaya Chutney
d. Vankaya Tomato Pachadi
e. Dosakaya Pachadi w Onion Tomato
f. Yellow Cucumber Chutney w Coconut n Coriander
g. Ridge Gourd Chutney