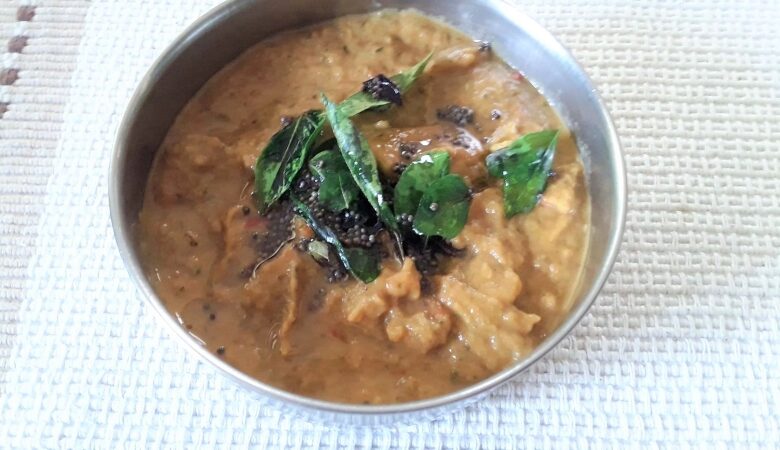 Ingredients
Bottle gourd – 1.5 cups chopped pieces
Tomato – 1 large, chopped
Green chillies – 2 to 3
Mustard seeds – ½ tsp.
Cumin seeds – 1.5 tsp.
Dhaniya or coriander seeds – 1 tsp.
Sesame or til – 3 tsp., roasted
Urad dal – 1 tsp.
Chana dal –  1 tsp.
Turmeric powder – a pinch
Garlic – 4 or 5 pods
Curry leaves – 1 sprig
Hing – a pinch
Salt to taste
Oil – 4 tsp.  or as required
Method
Heat 1 tsp. of oil in a pan. Add 1 tsp. of cumin seeds, 1 tsp. coriander seeds, 1 tsp. of chana dal, chopped green chillies and garlic into it. Roast for a couple of minutes.
Now add the tomato pieces to the pan and mix well. Cover and cook till tomatoes are soft. Keep aside.
In the same pan, add another 2 tsp. of oil and add the bottle gourd pieces along with turmeric. Cook for a few minutes till the pieces are done. Keep aside to cool.
Now into the mixie jar, add the tomato mixture, little salt and the roasted sesame seeds. Coarsely grind.
Now add the bottle gourd pieces to it and grind again till you get a coarse paste. If you wish, can add a teaspoon of water to make a smooth paste.
Do the tempering with oil, urad dal, mustard seeds, hing and curry leaves. Pour on top of the chutney. Serve with hot rice.
Here are a few more chutney recipes that pair well with white rice at lunchtime….
a. Bottle Gourd Peel Chutney
b. Raw Yellow Cucumber Chutney
c. Bottle Gourd Coriander Chutney
d. Brinjal or Vankaya Kothimeera Pachadi
e. Tindora or Dondakaya Chutney
f. Carrot Chutney