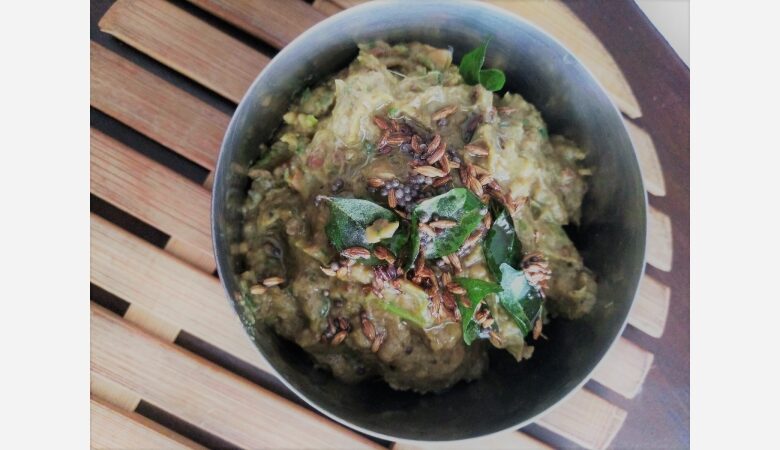 Ingredients
Brinjal – ¼ kg
Green chillies – 2 or 3, adjust to your taste
Urad dal – 1 tsp.
Cumin seeds – ½ tsp.
Mustard seeds – 1 tsp.
Curry leaves – a few
Garlic – 4 pods
Tamarind – few pieces, soaked
Coriander – 5 tbsp., chopped
Salt to taste
Oil – as necessary
For tempering
Oil
Mustard seeds
Urad dal
Chana dal
Cumin seeds
Curry leaves
Hing
Method
First wash the brinjals. Cut off the top. Then cut into medium sized pieces and add into a bowl of water to which salt has been added. This is to prevent discolouration.
Take a saucepan and add some oil to it. Add the brinjal pieces( after draining the water) to the pan. Now add the green chillies to it and saute.
After a few minutes, add the urad dal and cumin seeds to it. Add the mustard seeds and mix well.
Now add to it a tsp. of salt and cover and cook the brinjals for few minutes till almost done.
Now add a few curry leaves, garlic and soaked tamarind pieces. Mix well and fry for a couple of minutes.
Finally add the chopped coriander and mix well. Turn off the stove. Cool the mixture.
Take the mixture in a small jar and grind to a paste.
Do the tempering and add it to the chutney.
If you like this recipe, you will surely enjoy making these too…
a. Bottle Gourd Peel Chutney
b. Bottle Gourd Tomato Chutney
c. Anapakaya Chutney
d. Vankaya Tomato Pachadi
e. Dosakaya Pachadi w Onion Tomato
f. Yellow Cucumber Chutney w Coconut n Coriander
g. Ridge Gourd Chutney