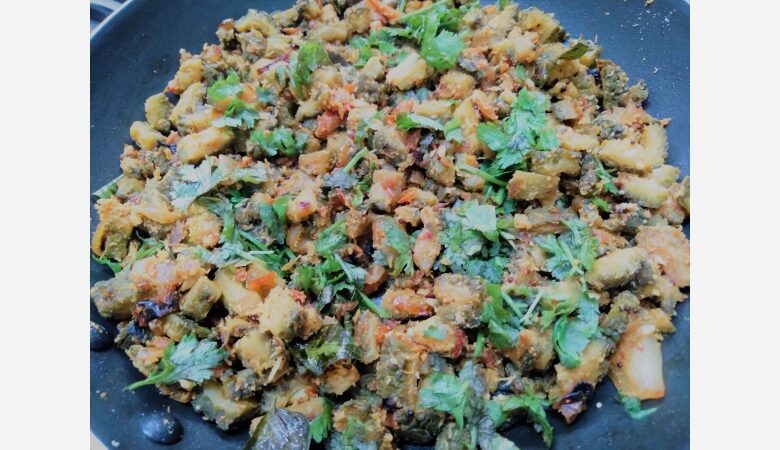 Ingredients
Bitter gourd – 200 gms.
Onion – 1 large, chopped
Tomato – 1 large, chopped
Curry leaves – a few
Mustard seeds – 1 tsp.
Cumin seeds – 1 tsp.
Urad dal – 1 tsp.
Turmeric – a pinch
Oil – 2 tbsp.
Salt to taste
Red chilli powder – 1 to 2 tsp.
Melon seeds powder – 1 tbsp.
Dessicated coconut – 1 tbsp.
Coriander – 2 tbsp.
 Method
Clean and chop the bitter gourd into bite sized small pieces. Pressure cook them and keep aside.
In a pan, add in the oil and once hot, put in the jeera, mustard seeds, urad dal and curry leaves. Saute for a minute.
Now add in the onion pieces and fry well till they change colour.
Next add in the tomato pieces and to it put salt and turmeric. Mix well and cook for a couple of minutes. Once the tomatoes become soft, add in the cooked vegetable. Mix well.
Fry for a couple of minutes. Add in the melon seeds powder, red chilli powder and dessicated coconut and mix till well combined, just for a minute.
Lastly before switching off the stove, add in the coriander and stir. Remove into a serving bowl. It is best had with hot white rice.
 Another simple bitter gourd veg fry that you can try ….. Kakarakaya Kura or Bitter Gourd Fry
For more Dry Veg recipes that serve as a perfect accompaniment to Rice, check out the ones below….
a. Chow Chow Coconut Fry
b. Ladyfinger Fry with Chana Flour
c. Country Beans w Sesame n Coconut
d. Snake Gourd Dry Veg
e. Parval Fry