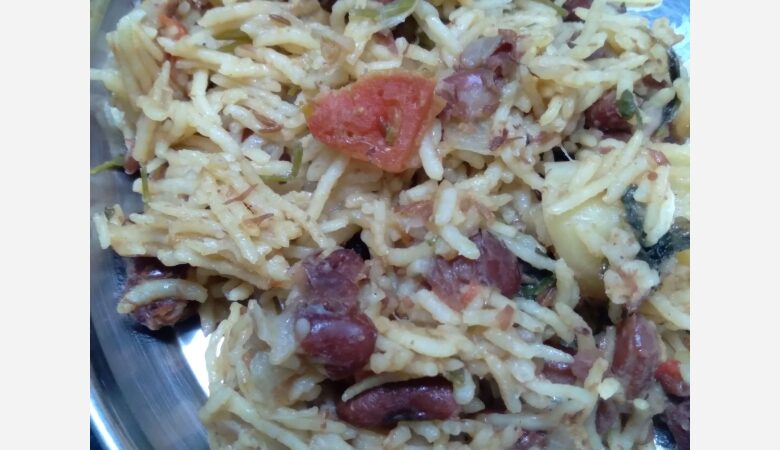 Ingredients
Rajma – ½ cup, soaked overnight
Basmati rice – 1 cup
Water – 2 cups
Ginger – 1 tbsp.,crushed
Mint leaves – ¼ cup,
Coriander leaves – ¼ cup
Onion – 2, chopped
Tomato – 2, chopped
Potato – 1, chopped
Garam masala powder – 1 tsp.
Green chillies – 2 or 3
Turmeric powder – a pinch
Cumin seeds – 1 tsp.
Salt to taste
Red chilli powder – 1 tsp.
Oil – 1 tbsp.
Ghee – 2 tsp.
Method
Soak the rajma beans overnight. In a pressure cooker, boil the beans alongwith some salt and 2 cups of water in a pressure cooker till soft. Keep aside.
Wash the basmati rice till the water runs clean. Soak it in water for a minimum of 20 mins.
In a pressure pan, put in the oil and ghee. Once hot, add in the cumin seeds, ginger, onions and green chillies. Saute for 2 – 3 minutes.
Next add in the mint leaves and potato pieces. Mix well and cook for 2 mins.
Now add in the chopped tomatoes and cook till semi soft.
The next step is to add in the turmeric powder, garam masala powder, red chilli powder and salt. Mix well so that all the flavours are combined properly.
It is time to add in the cooked rajma beans. Mix carefully and add in the water. Once it is boiling, do a taste test and add in salt or chilli powder if necessary.
Add in the soaked rice and mix well. Sprinkle the chopped coriander and cover. Pressure cook for 2 or 3 whistles. Once the pressure reduces, open the cooker and fluff up the pulao carefully so as to not break the grains. Serve hot with raita.
Variations :
a. Chana Pulao – You can take chana instead of rajma or the kidney beans. The rest of the procedure is the same. Use of potato is optional.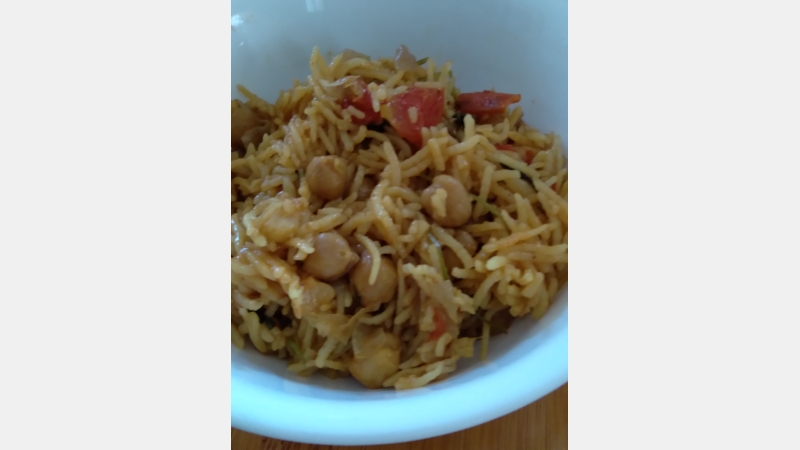 b. Chikkudu Ginjalu Pulao – You can prepare this pulao using the chikkudu ginjalu. Can also use half of this and rajma beans too. The method is the same.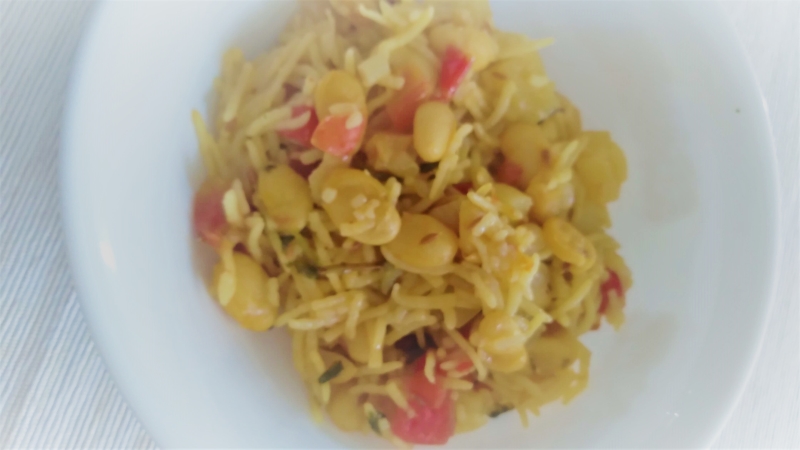 For more varieties of aromatic flavourful rice dishes, you can try out my…
a. Moong Sprouts Pulav
b. Spicy Veg Pulav
c. Cabbage Pulao
d. Methi Matar Paneer Pulao
There is a delicious mouth watering curry that you could do using Rajma or the Kidney Beans. It is the Rajma Masala Curry that is a perfect pairing with Jeera Rice.